Royi Sal Jewelry has been providing OEM custom jewelry design services for more than a decade. Our designer team primarily works with retail jewelry brands and premium boutique jewelry design agencies who want to bring an idea to reality in limited time, with the guarantee of 17 years experience.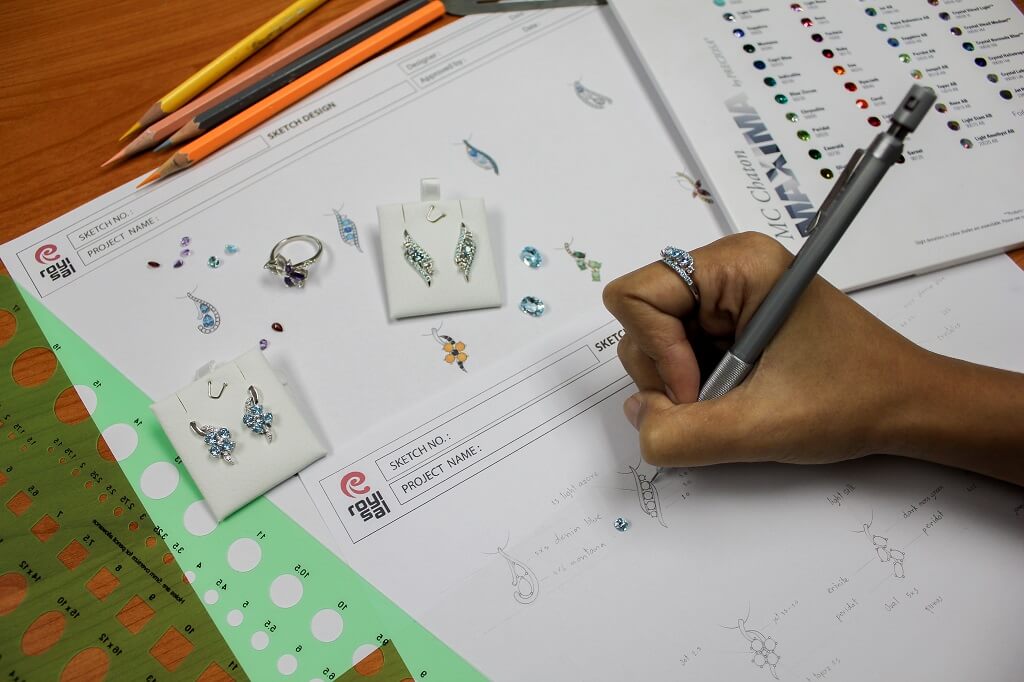 Our team in Royi Sal Jewelry works with high-tech computerized design technology using 3D-design programs such as JewelCAD and Rhino to provide you high-quality 3D designs. Using the latest technology such as wax-sample laser forming with "Rapid Prototyping" machines allows us to have the wax-prototype ready within only a couple of days.
Depending on the complexity and requirements of your concept, our team will streamline it from an idea into a real silver sample piece in under 4 weeks timeframe.
HOW TO GET STARTED WITH (OEM) CUSTOM JEWELRY DESIGN
Simply provide us with a detailed outline and requirements of your concept. Specifics are important. You can describe the jewelry you wish for in simple plain words like eg. "I want the rectangle pendant with pink crystals clustered as star-shaped in the center."
We appreciate photos of a similar piece of jewelry with dimensions superimposed or detailed sketches which include dimensions. For your convenience, the entire (OEM) custom jewelry development process can be completed remotely via email or project management services.
Terms of Services:
Our designers will provide you with one additional design revision for free, provided it reflects the spirit of the original design.
No extra charge for file modifications required to make additional ring samples in other sizes.
Our team will provide you with photo-realistic renderings on request.

(OEM) CUSTOM JEWELRY DESIGN REQUIREMENTS
Please try and consider the following when preparing your jewelry designs. A clear jewelry design will save time and money by letting us capture your concept precisely with few or no revisions.
Measurements: Any measurements you care about should be provided overlaid directly on your design or picture.
Different views: Please attempt to include a minimum of both front and side views Settings: Specify the type of setting to be used with gemstones if unclear from the design.
Gemstones: Type of gemstone to be used, gemstone sizes, and number of stones should be ascertainable from the design.
Weights & Targets: It's important to stress to us during the design stage any desired target weights or target budgets so that we can make suggestions of how to hit these if the initial design does not conform due to material use constrictions.

* As a general rule of thumb, anything that is not clearly discernible from your jewelry design schematic will be interpreted as giving artistic freedom to our jewelry designers.

RECEIVING YOUR (OEM) CUSTOM JEWELRY DESIGN

After we receive your requirements, our professional design team will finalize and send the design back for your approval in three different versions depending on your requirements.

Paper Sketch
3D Prototype – Screen Capture from JewelCAD (computerized prototyping) work
Wax Prototype from our Rapid Prototyping (RP) machine

The above process can be finished within a week and the wax prototype has the same details and dimensions exactly like the real jewelry. Additionally, you can also request a "real jewelry" sample.

After confirming the final design, our professional English speaking customer success team will walk you through our order process, quoting the prices, confirming the order and receiving the required deposit.

You can expect the production and shipping to be completed within 3 to 4 weeks. Congratulations! You just had your first jewelry designed, manufactured and delivered at your location in less than 6 weeks.