As a beginner jewelry maker, you may feel overwhelmed by the sheer amount of tools and supplies available to you. Where do you start? Moreover, do you need it all?
Before you find your signature jewelry making style and the materials you like to use the most, you may only want to invest in a few vital jewelry tools that will be indispensable, no matter which area of jewelry making you specialize in later in your career.
Any professional jeweler will tell you that your set of jewelry making pliers are just some of the tools that you will return to again and again in your career. To help you figure out which jewelry pliers to invest in at this point in your career, we've put together a comprehensive list of some of the best jewelry pliers for beginners.
What are the best jewelry pliers for beginners?
Keen to learn more about shaping wire and forming intricate metal loops with your work? Your set of round nose pliers will be invaluable. As the name suggests, the jaws on your round nose pliers are finished, tapering off to a point. This makes them most useful for creating loops in the wire, and an excellent asset for tight wire wrapping on smaller pieces, or creating your jump rings.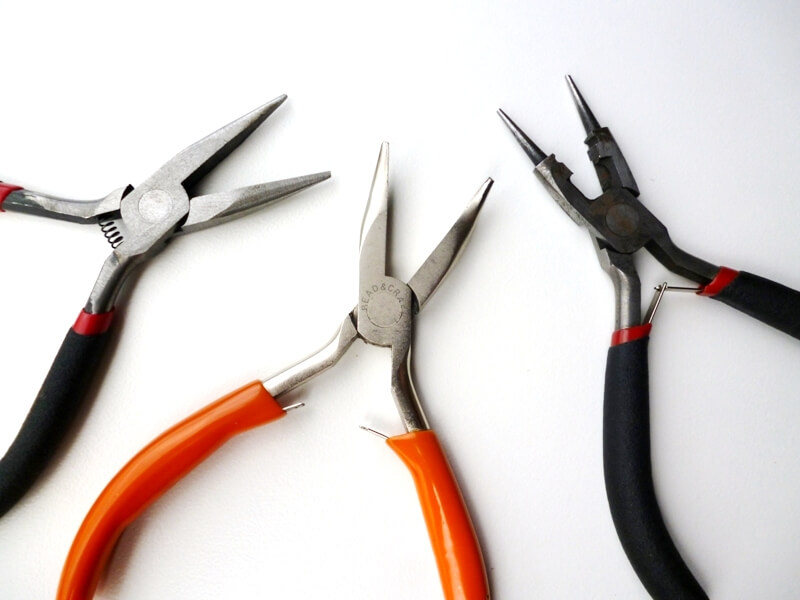 Also referred to as chain nose pliers, your snipe nose pliers are an excellent jewelry tool for opening and closing jump rings. Their firm grip and tapered shape make it simple to grip and shape fiddly pieces of metal wire, making them ideal for use with findings.
Flat nose pliers feature a much broader set of jaws and have a flat surface, making them useful for creating sharp bends and angles in the metal sheet. Due to the wide jaws of your flat nose pliers, you may also find them useful when it comes to merely hold and gripping small pieces that you're working on.
Many jewelers often find that maintaining a small portion of jewelry with your flat nose pliers while working on it with another set of pliers comes in handy, as it gives you a much steadier product to work with. Some jewelers also use their flat nose pliers to open and close jump rings.
Bent nose pliers are an excellent final addition to your beginners' jewelry pliers set. They feature one half round jaw and one flat jaw. Most commonly used to bend rings into shape, the half round side makes it simple to create a smooth, curved shape while the flat side helps keep any scratches or marks to a minimum as you work. Although they're often referred to as ring pliers, they are also an excellent tool for forming earring hooks and wires.
A massive duty pair of shears is just the ticket for a busy jewelry maker who needs clean lines when cutting up pieces of sheet metal and solder strip. A solid pair of manual shears that will cut through metal sheet and wire of up to 16 gauge is ideal so that you can use your shears when a piercing saw just won't cut it.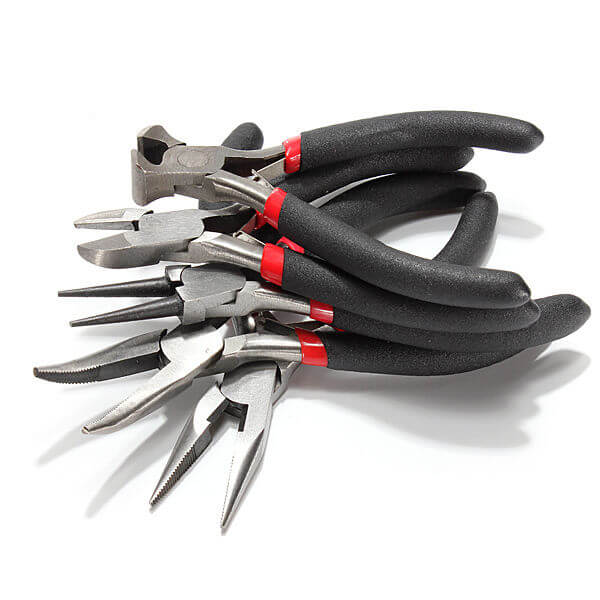 What side cutters? This handy tool will be one that you return to again and again – they're a type of small shear that is used for cutting metal wire. An excellent tool when you're getting to grips with wire wrapping techniques or for merely trimming away excess metal wire for a neat and tidy finish to your findings. The sharp, flat blades of your side cutters will allow you to cut right to the very edge of the metal wire you're working with, helping you to keep the filing of findings to a minimum.
If you plan on specializing in a specific type of jewelry making or would like to produce rings and bracelets en masse, then a more specialized set of ring bending/bracelet bending pliers may be a handy addition to your toolkit. Ring bending pliers are also known as half round pliers due to the shape of the jaws – one side is flat, and one side is rounded.
This specific set of ring bending pliers help you to form smooth rounded surfaces for your rings, while the flat team ensures that the metal you're working with doesn't get scratched or marked. If perfecting circles are your aim, a set of ring bending pliers may be a welcome addition to your toolkit.
Bracelet bending pliers look a little different to ring bending pliers. Usually used to form metal bangles, they feature a set of curved nylon jaws. The nylon minimizes any risk of scratching the surface of the metal as you work and the gentle curve of the jaws will help you shape a perfectly formed bangle.
Solder cutting pliers
If you plan on soldering many your pieces, whether that's forming rings or creating bezel settings, a set of solder cutting pliers will save you lots of time. This handy set of jewelry making pliers helps you to create your soldering alloys with just a snip of your pliers. All you have to do is feed your metal sheet or wire through the hole in the jaws of your solder cutting pliers, adjust to the length that you require from your millions and just cut away.
This will help you save time by cutting up tiny pieces of solder and help speed up your entire jewelry production process. Use a small tin to catch your soldering alloys as you cut, that way you have a stock of millions ready for whenever you need to use your soldering torch.
Multi-sized looping pliers
Multi-sized looping pliers may look a little strange, but they're incredibly useful when you're producing multiple bails, or jump rings in varying sizes from 2 to 9mm. With the jaws of the pliers featuring more than one loop setting, it makes it easy for you to create jump rings of multiple sizes for different projects in a matter of minutes.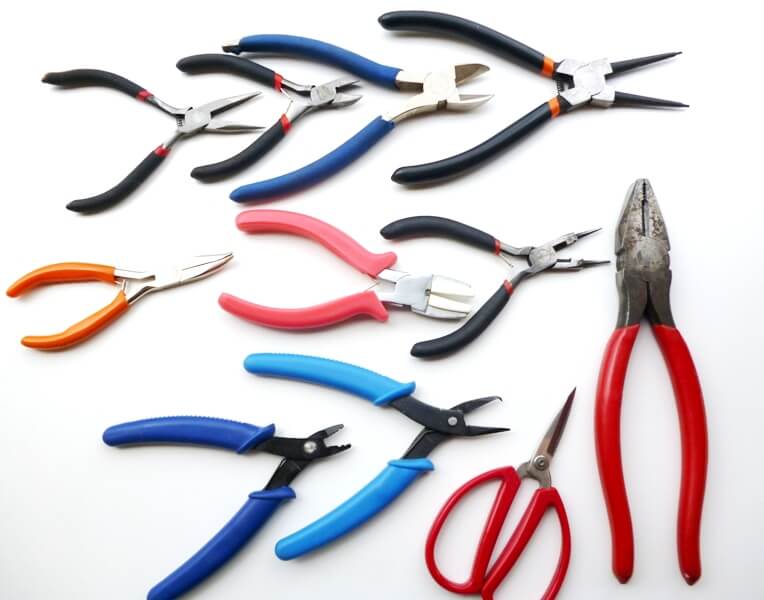 Crimping pliers
Crimping pliers are a great addition if you work with beaded pieces. With a specially cut set of jaws your crimping pliers will first separate the crimp into sections, then squeeze the crimp into place, securing it on the thread or wire you're using. Each set of crimping pliers will usually be set to a specific size, so make sure you use the crimping pliers that correlate to the size of the crimps you regularly use.
Hole punch pliers
These pliers are just perfect if you've reached the stage, in your jewelry making career, that you're creating more and more hanging pendants and charm bracelets, but you've not yet reached the point where you would like to invest in a drill. Great for creating holes in metal blanks, they will help you quickly produce clean, even holes, whether it's merely for hanging pendants or creating drops and connectors to your pieces.
Whether you're just starting out or you're exploring new jewelry tools to speed up your jewelry making process, reliable jewelry pliers set will never let you down.
P.S. Royi Sal Jewelry, as a decades-long leader in silver jewelry design and manufacturing, invites you to download our latest magazine here and profit from the exceptional jewelry designs in affordable prices you will find in the magazine. Click here to download it now.