There are different tools and techniques that can be used with metal in handmade jewelry. Now we move onto non-metal, to give you all the information to find out which is the right style for you. 4 Non-Metal Styles for Your Handmade Jewelry.

If you find the prospect of using metal a little daunting or don't fancy working with it for whatever reason, many other alternatives will provide color and texture in ways that metal cannot.
Many techniques also require minimal setup costs and can be produced at the kitchen table without the need for a designated workshop area.
Take a look at some of the options below to see what takes your fancy.
Non-Metal Styles for Your Handmade Jewelry
1. Beading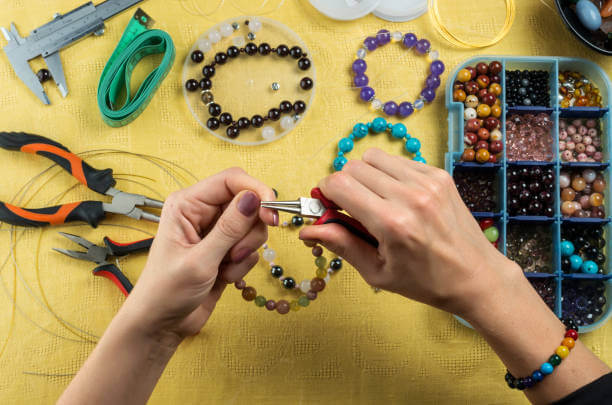 Beading is a huge jewelry genre that has been in existence for many thousands of years, and it can be as simple or as complex as you choose to make it.
You can make the beads themselves out of clay or wood, for example, create pieces from shop-bought beads using pliers and findings or weave sections of intricate patterns using tiny seed beads that can be made into objects like bags and collars (to name but a few).
The simplest way to start is to buy a kit that contains all the pieces you require to produce a piece of jewelry. Once you know what is involved, you can start to experiment by choosing your own beads, which will enable you to create unique pieces in a relatively short amount of time.
Found objects can create great beads if you have the means to drill holes into them. Things such as driftwood, glass, and plastics offer an interesting breadth of possibilities that cost absolutely nothing and help recycle items that would otherwise be discarded.
Bead weaving is the most complex form of beading and involves techniques such as knotting, macramé, planting, and braiding, which can take considerable time and practice to learn.
2. Clay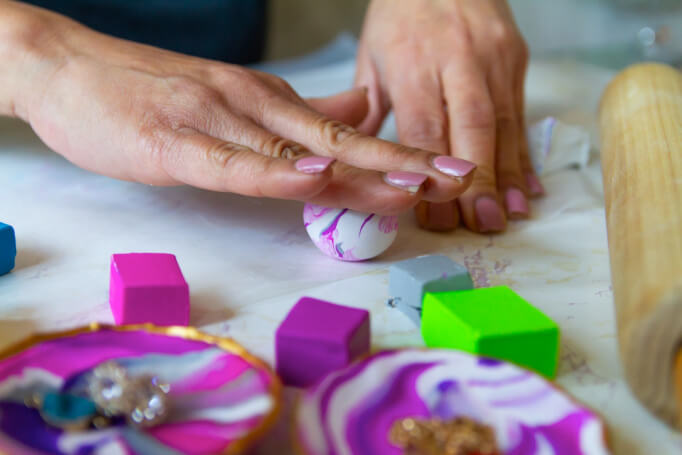 It comes in many different forms, and most can be utilized for jewelry making with a little imagination!
Fimo is polymer clay (which essentially means a compound made of identical smaller compounds) that comes in an enormous range of colors and effects. In other words, it has an instant and immediate impact right from the outset.
It's an extremely versatile material that can be molded by hand or with just a few basic hand tools and then hardened off in a conventional oven at low heat.
It's ideal to use with children as it is available in an extra soft version (Fimo Kids), perfect for little hands. It's non-toxic and can be used in a small space on a kitchen worktop or table, so it is perfect for intermittent jewelry making with very little outlay.
Clay can be rolled, cut, textured, and sculpted to produce a whole host of different effects.
3. Enameling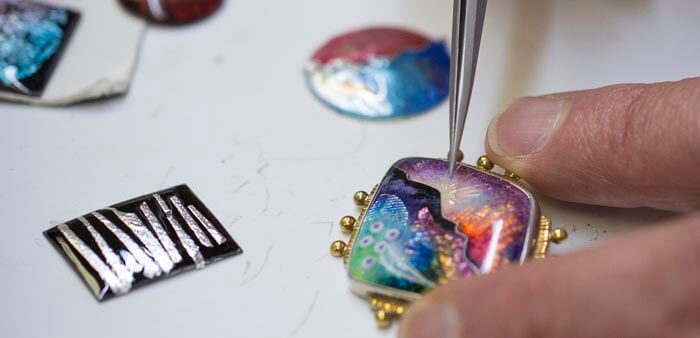 It can be done without expensive kilns and equipment thanks to modern innovations in crafting techniques and materials.
Efcolour is a range of resin-based enameling powders that can be fired at low temperatures in a conventional oven without the need for a kiln.
These powders can be applied to metal, wood, glass, porcelain, and stone and are far less labor-intensive than traditional enamels. Kits are a great way to get started as they contain everything you need to produce a piece of jewelry.
4. Resin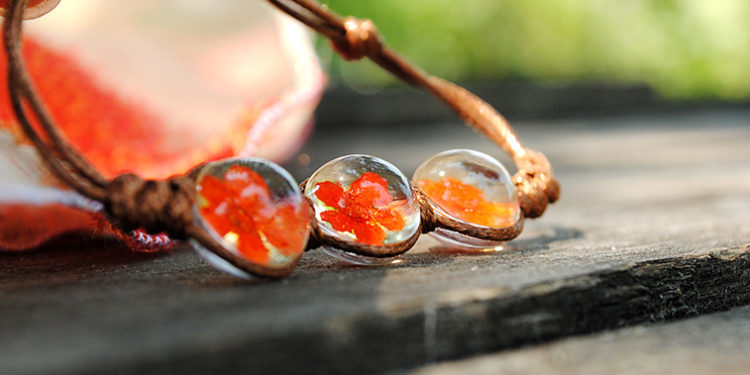 It can be quite a messy and smelly business, but thanks to modern technology, it is now possible to buy resins that are far more user-friendly and less problematic than ever before.
Most resins are delivered in a two-part system that contains a colored base in either a liquid or powder and a liquid hardening agent. The two parts need to be mixed together and allowed to cure to achieve the beautiful and even color and shine we associate with resin.
Many of the materials needed for resin work are hazardous and need to be handled with care as they can be extremely toxic.
Therefore it is essential to have a designated working area that is clean, ventilated, and safely away from any children or pets. Handling resin takes a certain degree of skill, so it's advisable to do some reading around the subject before taking the plunge.
Whatever your interest or skill level, there is a jewelry technique for you, so why not take the plunge and try something new today.
P.S. Royi Sal Jewelry, as a decades-long leader in silver jewelry design and manufacturing, invites you to download our latest magazine here and profit from the exceptional jewelry designs at affordable prices you will find in the magazine. Click here to download it now.