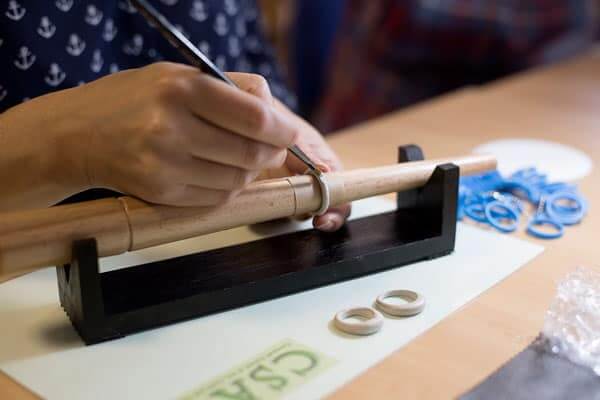 Making PMC rings is not difficult; it takes a bit of practice and the right tools for the job. Learning how to make a PMC ring is an excellent way of improving your metal clay design skills, and concentrating on minor details will really make your PMC rings stand out. Here are the 8 Steps To Make A PMC Ring.
Follow our tips on making metal clay rings and producing a new design that you can adapt and improve as your silver metal clay jewelry skills develop.
How to make a PMC ring step by step
Needed Supplies and Materials:
Kiln or hand torch
Badger balm
Plastic spacers
Plastic roller
Textured sheets of your choice
Metal clay cutting blades
Clay cutters
Sanding pads
Needle files
Brass brush
Mandrel
Mallet
1. Measure out the size of your PMC ring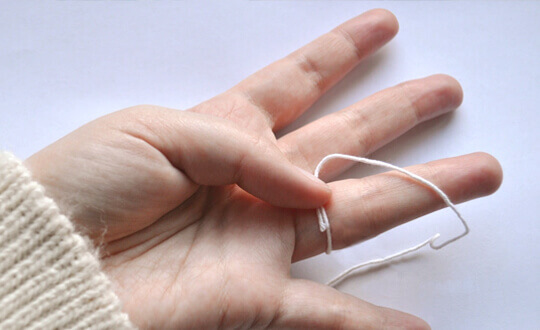 You can do this using a traditional ring sizer, but one simple way of doing this is by cutting out a strip of paper or string and wrapping this around your finger.
You can then mark the string or paper with accurate measurement and unravel this so that it's easy to continue onto the next stage.
With your string or paper unraveled, mark this out on a separate piece of paper for clarity. Make sure that you add 15% of the initial measurement.
This will make sure that the ring size is correct even after firing as the ring will shrink.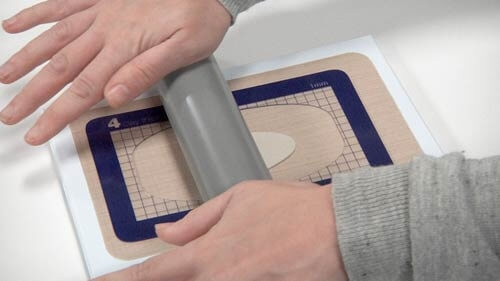 Place your clay onto a clean work surface, preferably a Teflon coated mat or something similar, to prevent the clay from sticking as you work.
You can also add badger balm to the mat and your hands to prevent the clay from sticking further. Place your plastic spacers on either side of your clay to ensure that the clay is even as you roll it out.
3. Cut the clay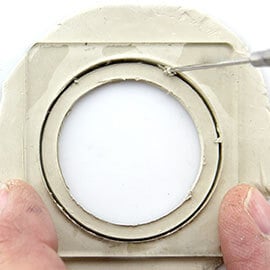 Once you've added texture to your silver clay ring, you can cut it accurately to size. Use a metal clay cutting blade to cut along the measurement you made earlier.
4. Leave your ring to dry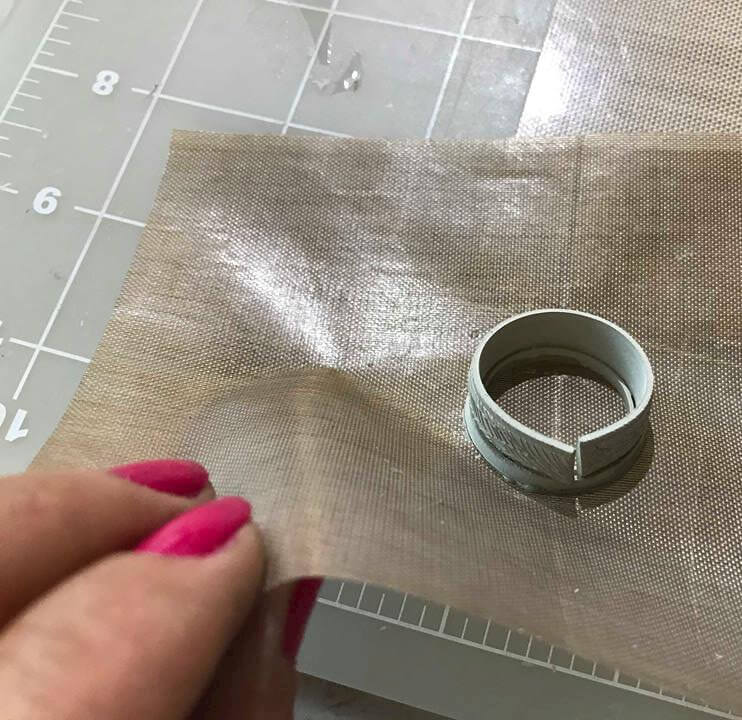 Once you've added the detail to your ring with texturing sheets and cutters, make sure you leave it to dry for 24 hours. It's important to make sure your PMC ring is dehydrated so that it hardens and strengthens before finishing up.
You can leave your ring to dry in its flat, laid out state – forming the ring shape will come after the firing process.
Use sandpaper to remove any burrs and smooth out the edges. You can also neaten any cut-out shapes and awkward areas with a needle file.
5. Now you're ready for the firing process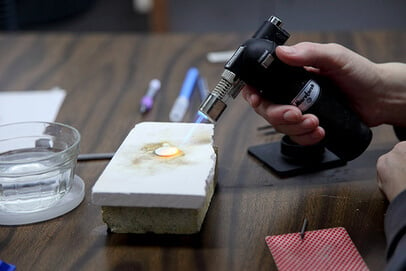 Learn about the firing process in more detail in our post on how to fire precious metal clay. This will advise you on firing with a kiln, with a hand torch, and with a gas hob.
Whichever method you choose, make sure you read the metal clay manufacturer's instructions for firing times. Once the ring has been fired, leave to cool for as long as needed.
You can quench your PMC ring, but quenching is not recommended if you've embedded stones in your design.
6. Brush and polish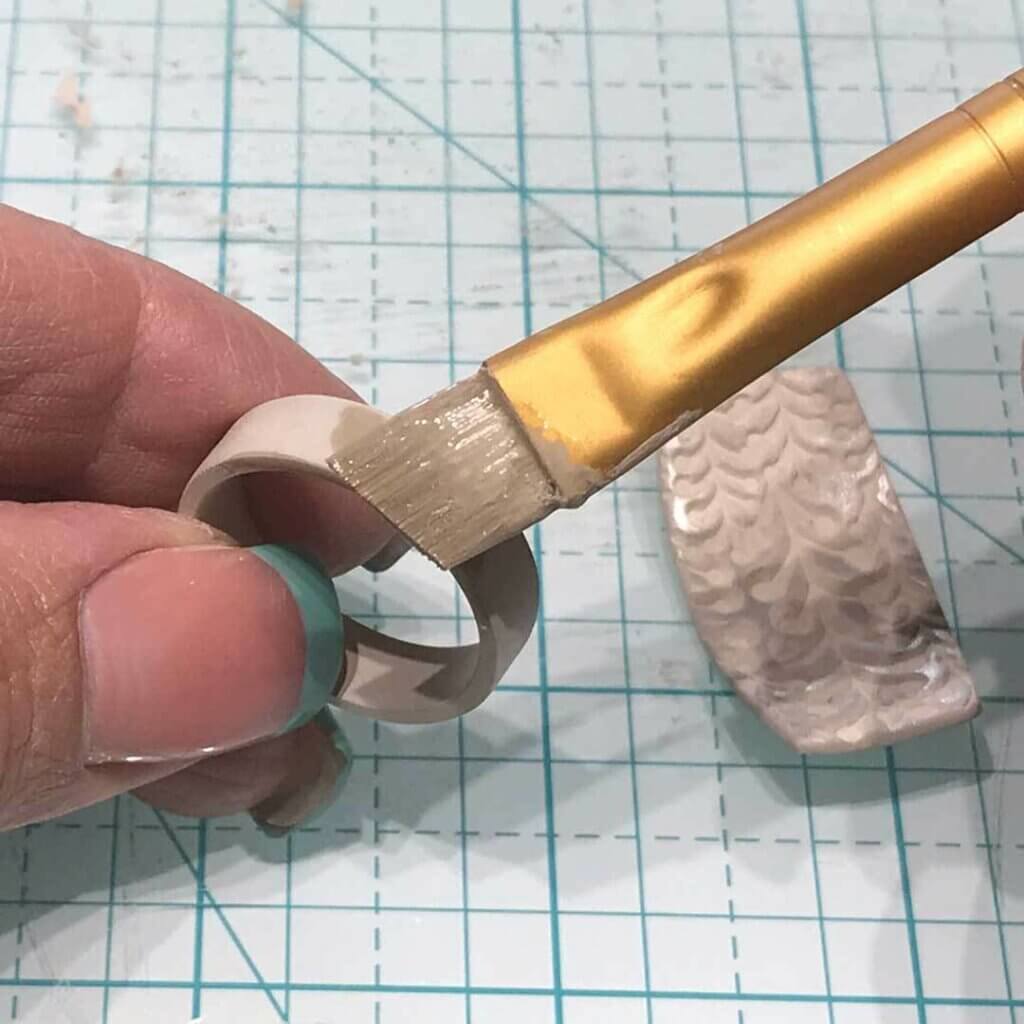 Now your design is completely cool, use a brass brush to remove the heat's tarnishing. This will start to bring out the shine of the metal.
Then continue to polish as required depending on the finish you would like. Start with coarse sanding pads first and work your way through finer pads for a high luster shine.
7. Shape your ring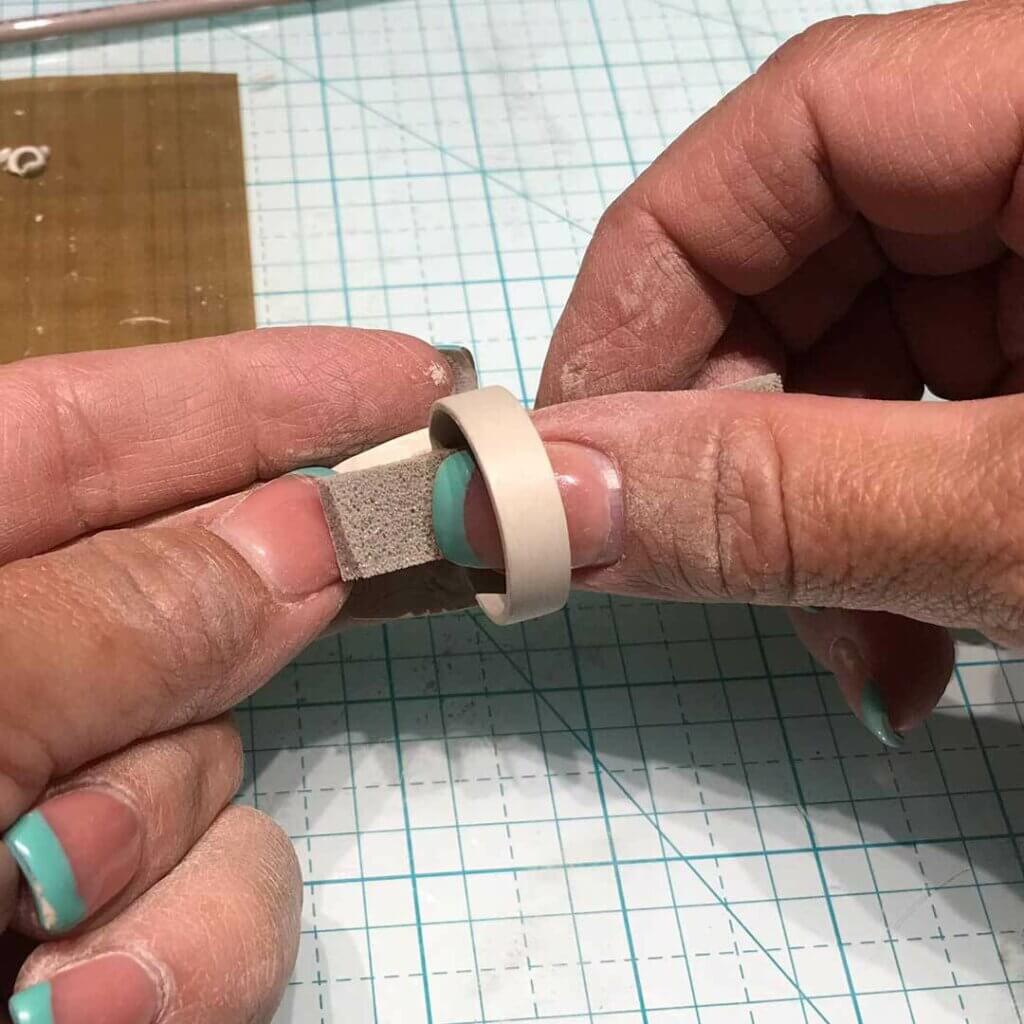 Firstly, bend your ring into shape using your fingers and pliers. Using a mandrel and a mallet, start to refine the shape and bring the ring together.
You may need to make several passes with your mallet to create the perfectly rounded ring you're looking for.
8. Adapt and refine your PMC ring designs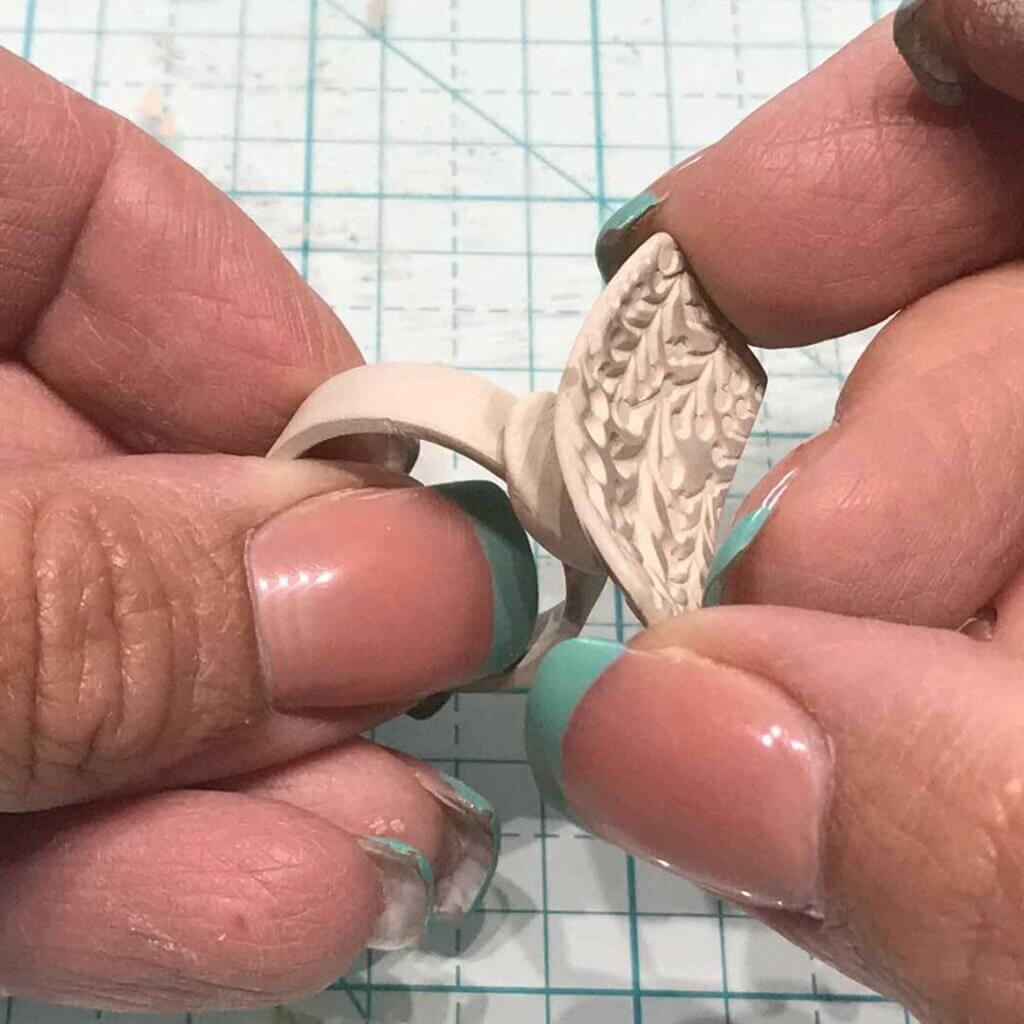 At this stage, you can create an overlapping ring as part of your design – this is the simplest way of starting when learning how to make a PMC ring.
Later you can experiment with fully formed rings before firing or create new designs that suit your jewelry making style. Remember the cutout start shape from earlier?
You can also experiment by adding these cutouts to your design in a raised pattern on your ring. Add with metal clay paste to ensure a sturdy bond that lasts and lasts.
Now you know how to make a PMC ring, nothing stops you from expanding on this initial design idea and creating something special.
Learning how to use metal clay is an excellent way of expanding your jewelry-making skills and giving your customers new collections to choose from. 8 Steps To Make A PMC Ring.
P.S. Royi Sal Jewelry, as a decades-long leader in silver jewelry design and manufacturing, invites you to download our latest magazine here and profit from the exceptional jewelry designs at affordable prices you will find in the magazine. Click here to download it now.