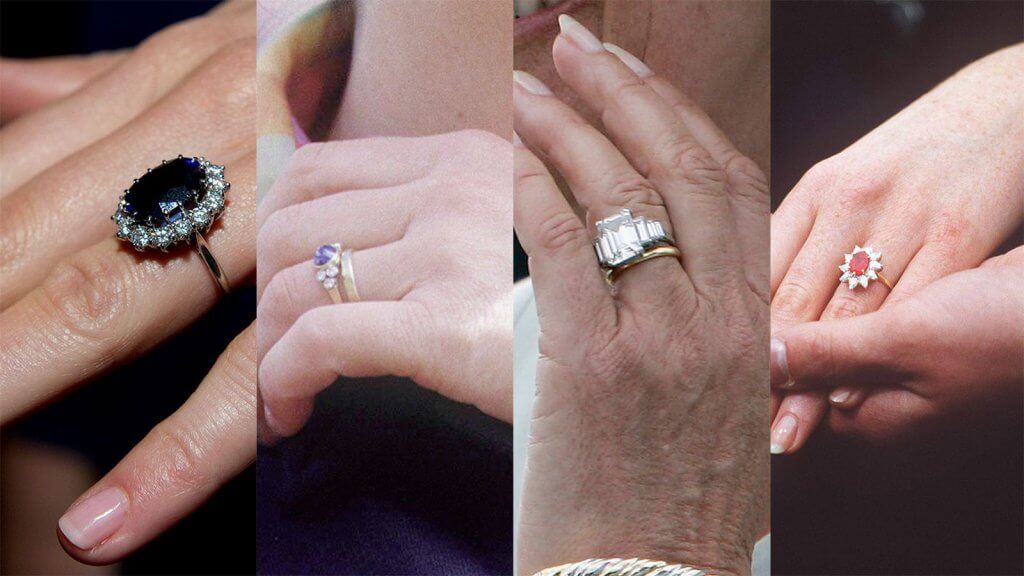 Nothing captures the hearts of the general public like a Royal Wedding. Despite the wavering popularity of the monarchy in this country, as a nation seem to enjoy the pomp and ceremony that these state occasions demand. Here are the Royal Engagement Rings Throughout History.
Royal Engagement Rings Through Ages
The Engagement Ring is always at the center of the media focus throughout the proceedings. It would be interesting to see how styles have changed over the decades. Let's look into the Royal Engagement Rings Throughout History.
Duke and Duchess of Sussex – 2018. Diamond, Trilogy, 18ct Yellow Gold, Cleave and Company

Given to the Duchess by HRH Prince Harry, this stunning piece designed and created by Cleave and Company.
The royal engagement ring comprises of three trilogy diamond stones, with a simple 18ct yellow gold band.
A simple yet equally as stunning engagement ring, there is no surprise as to why this particular design has become a favorite of many.
Duke and Duchess of Cambridge and Princess of Wales. 2011/1981

Today our modern-day royal brides tend to opt for classic halo design engagement rings, often with an oval central semi-precious stone.
The sapphire/diamond engagement ring of Princess Diana, which is now belonging to the Duchess of Cambridge, has been so well documented that few can forget the enormous 12 carats oval Ceylon sapphire.
It adorns the center which was in some respects more fitting for a Hollywood film star.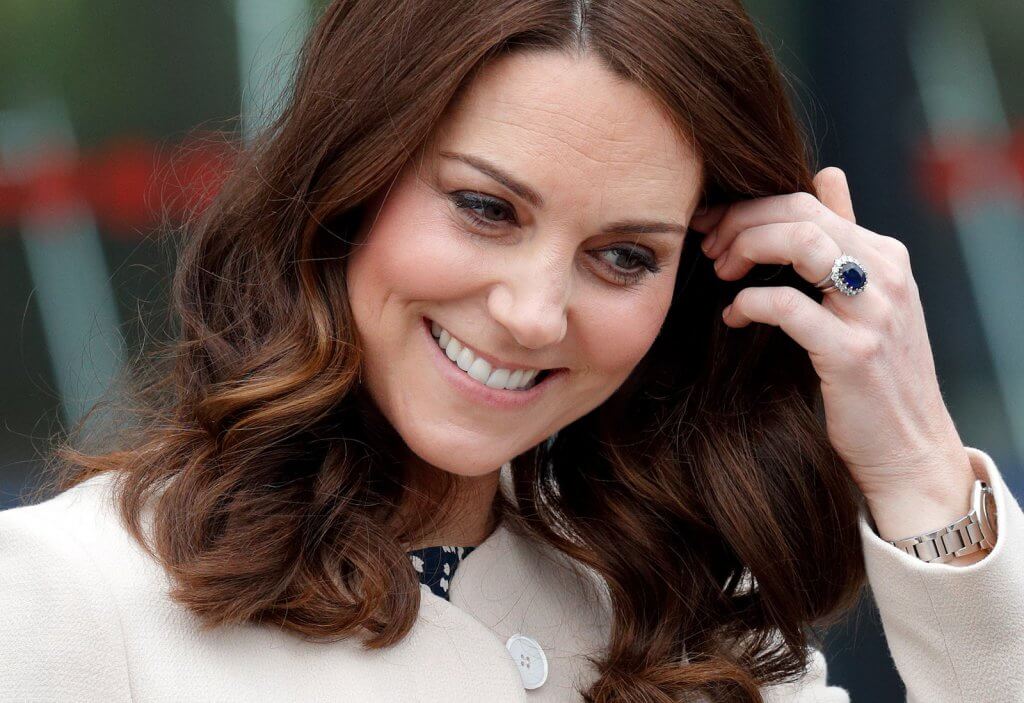 Most royal engagement rings tend to be large but a little more understated than this.
However, you may be surprised to learn that this stone was, in fact, tiny compared to the Emerald famously given to Wallace Simpson by King Edward VIII in 1936.
Presented just before the king abdicated, having reigned for only 11 months, the Emerald weighing a huge 19.22 carats was set in yellow gold and surrounded by diamonds.
It is one of the most lavish royal engagement rings to date.
Princess Eugenie of York. 2018
As you would expect, semi-precious stone choices are very traditional featuring, almost without exception, diamonds, rubies, sapphires or emeralds.
A recent anomaly came in the form of a Padparadscha Sapphire which was chosen for Princess Eugenie of York this year by Jack Brooksbank, her husband to be.
This rare pink/orange sapphire named after the Lotus Blossom has unique color-changing properties.
One of the rarest gems on the planet particularly when over 2 carats, which Princess Eugenie's example most certainly is.
Duke and Duchess of Cornwall. 2005

With its unique art deco design, this engagement ring belonging to the Duchess of Cornwall is a unique and standout piece.
A uniquely designed diamond complete with a platinum band.
This beautiful piece traced back to the late Queen Mother, another exquisite family heirloom.
Queen Elizabeth II. 1947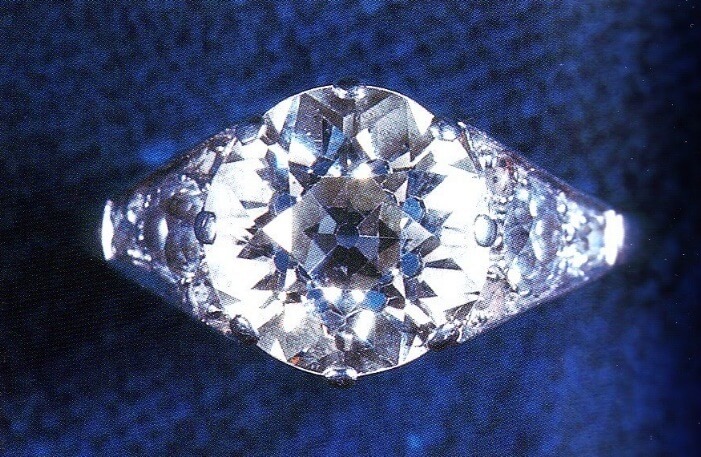 One of the most beautiful examples belongs to Queen Elizabeth II and contains a stunning old cut, round diamond estimated to weigh around 3 carats.
Not ostentatious for a Queen by today's standards but classically elegant and timeless.
With the help of jeweler Philip Antrobus, Prince Philip designed the engagement ring.
It was one of the few royal engagement rings from platinum.
Interestingly the Queen wears her engagement ring alongside her yellow, welsh gold wedding ring.
Following royal tradition and clearly has no qualms about mixing metals.
Most modern brides want their wedding and engagement rings made from the same metal but royal protocol comes first.
Duke and Duchess of York. 1986

Queen Mother 1923

One other interesting variance from the norm belonged to the late Queen Mother, formerly Elizabeth Bowes-Lyon.
She gave up wearing her original sapphire/diamond engagement ring in her later years.
Instead opted for a huge pearl surrounded by diamonds.
Queen Victoria (1840)
Over the years, royal engagement rings have varied enormously with some of the oldest rings being the most unique.
For example, the engagement ring of Queen Victoria. It would be a strange choice today.
However, a serpent at that time represented wisdom, loyalty, and commitment which were very fitting for the occasion.
The central stone was an Emerald which was Queen Victoria's birthstone which was again quite common practice during Victorian times.
A fascinating jewelry journey through history I think you will agree, but which one is your favorite engagement ring? Royal Engagement Rings Through the Ages.
P.S. Royi Sal Jewelry, as a decades-long leader in silver jewelry design and manufacturing, invites you to download our latest magazine here and profit from the exceptional jewelry designs at affordable prices you will find in the magazine. Click here to download it now.