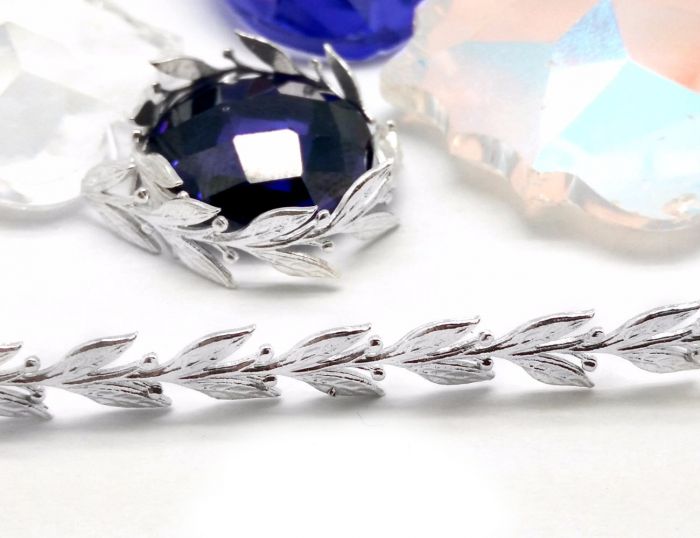 Decorative bezel wire. Whether it's scalloped, serrated, or an intricate gallery strip, the best thing about it is that it enhances your settings and gives you a sleek, professional finish. Whatever you're working on – whether it's a pendant or ring – make good use of decorative bezel wire to augment your gemstone of choice. Here is how to Enhance Stone Settings Using Decorative Bezel Wire.
Bezel Wire Fundamentals
Bearer wire, otherwise known as stone setting strip, is plain gold or silver wire measuring at two different thicknesses.
These two thicknesses provide a step for the stone you're setting, supporting it and fixing it in place, while the thinner edge of the bezel can be used to hold the stone firmly in position.
All you need to do is roll this section of the wire over the stone itself to secure it.
How to accurately measure your bezel wire
When measuring your bezel wire, you need to take some steps to make sure you get an accurate fit.
Firstly, you'll need to make sure your bezel strip is the correct width for the stone you'd like to set.
Think about how much of the edge of the stone you'd like to cover with your bezel – this will help you determine the width of your strip.
One of the simplest ways to make sure you use the right length of the bezel strip is by using a piece of string and wrapping it around your stone.
Mark it or cut it and use this to accurately cut the correct amount of bezel wire for your stone setting.
Remember that you'll need to leave a small amount of excess strip – it's always easier to trim your bezel strip instead of starting again and wasting your supplies!
Top tip: Why are most high-quality bezel strips made with fine silver? No matter how small and intricate the bezel wire, maybe you can still heat it during the soldering process, and it won't melt. That's not to say that you can't use sterling silver to produce your bezel settings, but make sure you're familiar with the metal you're using so that you don't overheat and melt any of the elements you're working with.
1. Use bearer wire to show off both sides of your stone
Found a stone that you want to show off? Don't cover it up with a base. Show it off with bearer wire instead.
Because the bearer wire features that little ridge to hold your stone in place, you can effectively leave both sides of the stone open so that your customers can appreciate it from all angles.
Plus, when you use bearer wire, you don't weigh the stone down as much by applying more metal.
2. Use an unusually shaped base
You can make your bezel settings more interesting by making a simple change to basic designs.
If you're still mastering the basic bezel setting and you're attaching a base to keep your stone in place, why not cut the base into a more unusual shape?
Make sure you have enough metal to work with to produce the shape you want and to support the weight of the stone you're setting.
To start with, you could follow the shape of your stone for a neat, uniform look.
Try sharp geometric or more rounded shapes that will complement the size and shape of the stone you're setting.
And don't be afraid to make your sheet metal base a bigger part of your design instead of just using it for a basic bezel setting.
3. Choose beaded wire to offset a simple stone
One of the easiest ways to finish off a basic bezel setting is to use beaded wire.
You can layer it around the stone itself, around the edge of the base you've made, or a combination of both.
You can also add more than one size and layer to produce a professional look that is clean and simple.
4. Don't forget to show the height of your stone
When you're working with a stone that has a lot of height, you can encase it using a decorative bezel strip.
Use a decorative gallery wire that features a lot of cut out elements so that the stone can still be seen from all angles once it's set.
This can be an excellent option for a ring with a larger stone, where you don't want to take away from its brilliance or luster.
5. Layer your bezel wire and gallery strip
Creating a ring or pendant that you'd like to be a stand out piece?
Don't be afraid to layer different types of gallery wire bezel for your desired effect.
Before you start soldering, layout your stone and your wire and start experimenting.
Perhaps your design could feature a beaded bezel wire wrap as well as a more decorative piece of gallery wire.
Using bezel wire in this way can help you achieve a design that's more detailed and complex with just a little more time and soldering.
Using bezel wire is a guaranteed way of making your designs neater and more professional.
Experiment with different combinations of the above, and don't forget to invest in all of the bezel wire and gallery strip you need to produce a collection you can be proud of. Enhance Stone Settings Using Decorative Bezel Wire.
P.S. Royi Sal Jewelry, as a decades-long leader in silver jewelry design and manufacturing, invites you to download our latest magazine here and profit from the exceptional or best-seller jewelry designs at affordable prices for 2019 you will find in the magazine. Click here to download it now