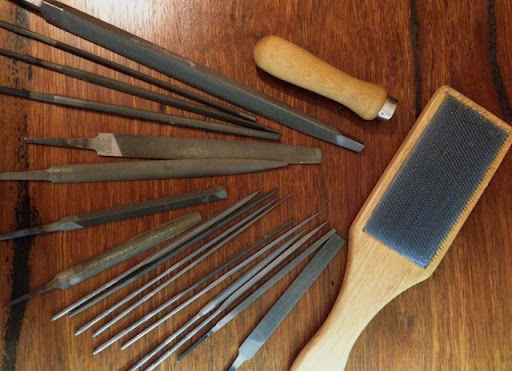 There are many different cuts, shapes, and varieties of files; some jewelry files are designed to meet specific needs. When searching for the perfect files for your bench, consider the material you will be working with, the level of detail you'll need to achieve, and the style of jewelry you'll be making. Choosing the right file will save you time and money. Here are the 6 Best Jewelry Files.
So, if you're struggling with figuring out the right types of metal files to use, we can help you out. Whether you're making rings, pendants, or stone setting, discover all the best files for metalworking in our guide below.
1. Round Files
With their intricate shape and delicate size, you must use the correct file when making rings, or you could damage your design. So what are the best metal files for making rings?
They're undoubtedly round files. Easy and convenient to use, you won't go wrong with one of these. Ideal for making PMC rings, effortlessly buffs away any awkward shapes or lumps, and you'll be left with a professional piece of jewelry.
2. Needle Files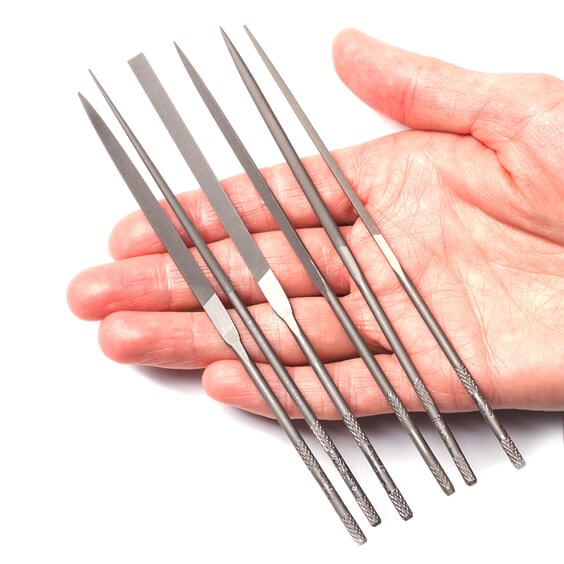 If you're ready to take your jewelry making to the next level, you may be interested in trying stone setting. However, making sure you have the right finishing tools is key.
The best metal file set for the stone setting is a set of needle files. Needle files are essential in ensuring gemstones fit correctly in a bezel – file down the bezel's height and the inside of the prongs to make the gemstone fit in securely and neatly.
These files also are approximately 4″ long and 3/16″ wide. They are usually sold in sets of 6 or 12 (or more) different shapes, packaged in a soft pouch, both for ease of handling and protection of the cutting teeth.
These small files are used in applications where the surface finish takes priority over metal removal rates, and they are most suited for smaller workpieces.
They are often used with no handle, but, like all files, they are safest when used with a handle. The handle is often designed around the collet principle, which allows files to be exchanged quickly.
3. Diamond Files
Instead of having their teeth cut into the file's surface, diamond files have small particles of industrial diamonds embedded in their surface (or into a softer material that is then bonded to the file's underlying surface).
The use of diamonds in this manner allows the file to be used effectively on extremely fragile materials such as stone or glass or tough metals such as hardened steel or carbide (against which a standard steel file is ineffective).
4. Classic Flat File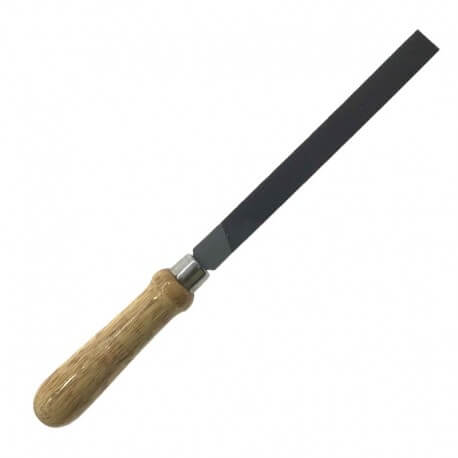 Whatever you're soldering, there's always the possibility you'll find unwanted blobs of solder on your design. But this can be rectified by simply filing the piece.
The best metalworking file for smoothing out solder is a classic flat file. It is versatile and comfortable to use with a wooden file handle, easily refining your solder's surface with a flat-file. For the most commonly used type of flat file, opt for cut 2.
5. Hand Files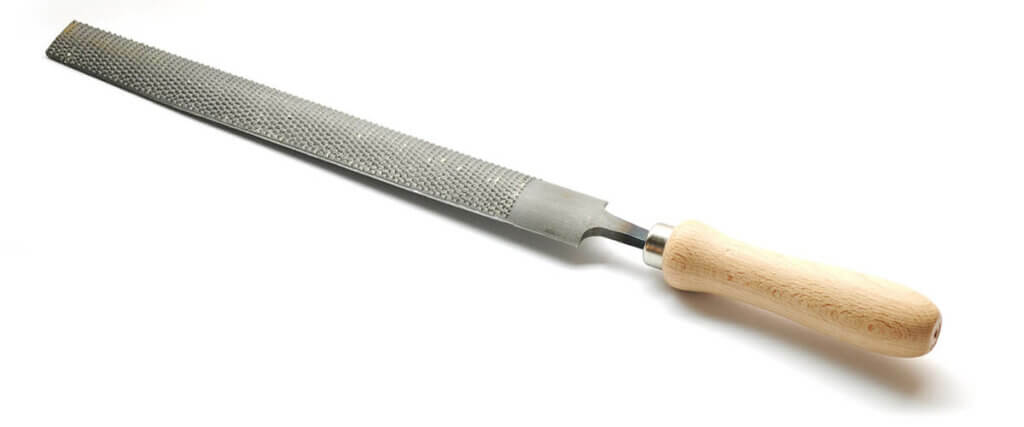 Hand files are approximately 8″ long and 5/8″ wide. These files can be sell individually and available in sets containing the most popular styles.
Also, hand files are beneficial for a broad range of applications that require the removal of material from the jewelry workpiece for shaping, smoothing, or finishing.
Most files have a narrow, tapered tang at one end to which a handle can be fitted. The tang can also secure the file in a vise for hands-free use.
6. Riffler Files

Riffler files are small to medium-sized files (generally approximately 6″ long) manufactured in an assortment of cross-sectional shapes and profiles.
The varying profiles and shapes enable them to use in hard to reach or unusually shaped areas. They often use an intermediate step in die-making where the surface finish of a cavity die may need improvement.
General filing tips
Now you know all the best files for jewelry-making, we've put together some tips and tricks for filing in general:
Clean your files. To keep your files at their maximum efficiency, clean your files with a file brush at regular intervals – it'll save you from spending money on replacing them, too!
File away from you. Filing back and forth will only take up your time, energy, and potentially blunt your file. Make sure you only file in one, the forward direction where possible, or you could damage your design.
Use the right cut. This is vital for preventing damage to your piece. The number of the cut is dependent on how heavy the filing needs to be and the type of file you're using.
Feeling more confident about choosing the best files for metalworking? Now it's time to give it a go yourself. Just make sure you have all the right files before you start—6 Best Jewelry Files.
P.S. Royi Sal Jewelry, as a decades-long leader in silver jewelry design and manufacturing, invites you to download our latest magazine here and profit from the exceptional jewelry designs at affordable prices you will find in the magazine. Click here to download it now.