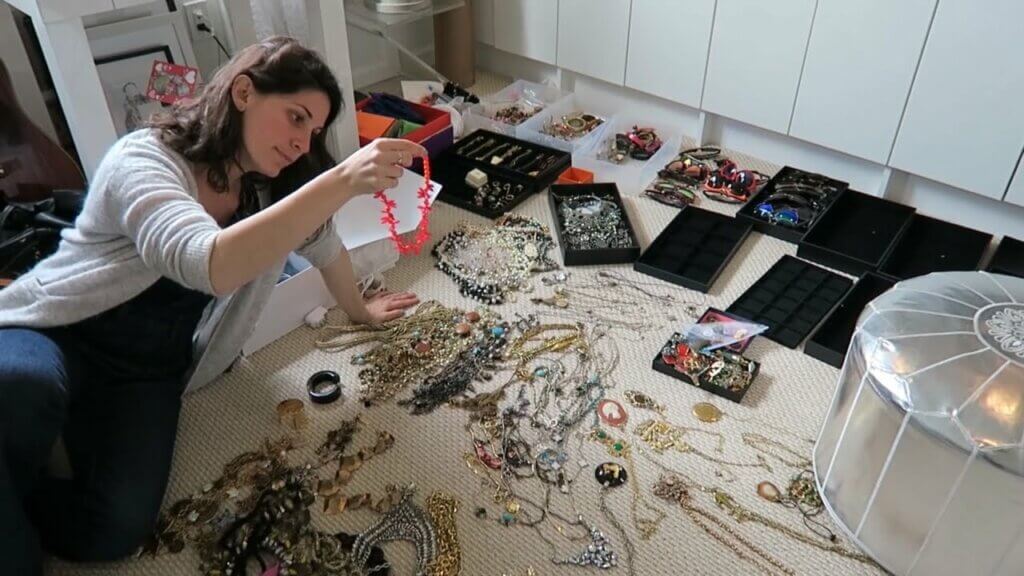 A new year is coming! We all love wearing jewelry from rings, necklaces, earrings, and so forth. So it would help if you had some jewelry storage ideas to keep your pieces organized. Imagine having the perfect place to keep all of your jewelry pieces and tools organized. Here are the 6 Jewelry Storage Ideas.
Well, we've got great ideas of jewelry holders and organizers that you can make in, and that will keep your jewelry well organized for good.
Store, Organize and Display Jewelry Pieces and Tools
1. Wooden File Stand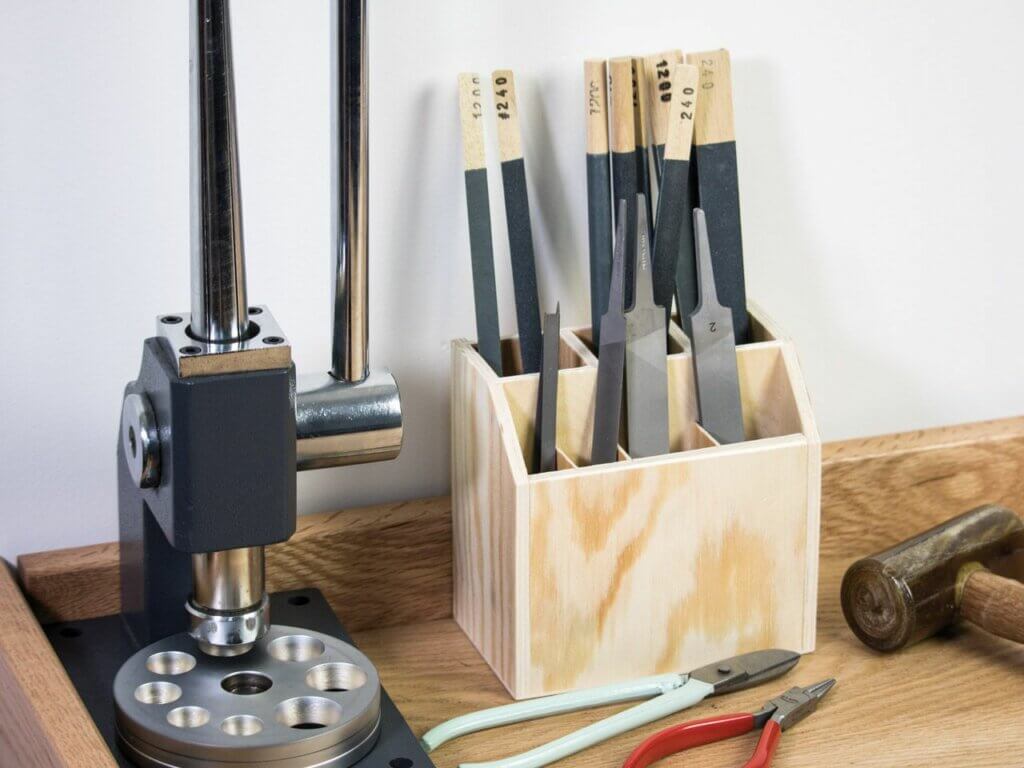 A wooden file stand is a lovely, simple way to do this, whilst still enabling you to have your files and emery sticks clearly visible and within easy reach.
The stand also has internal dividers to separate your jewelry tools, which helps with quick identification and is better than just putting them all together into a jar.
2. Magnetic Tool Holder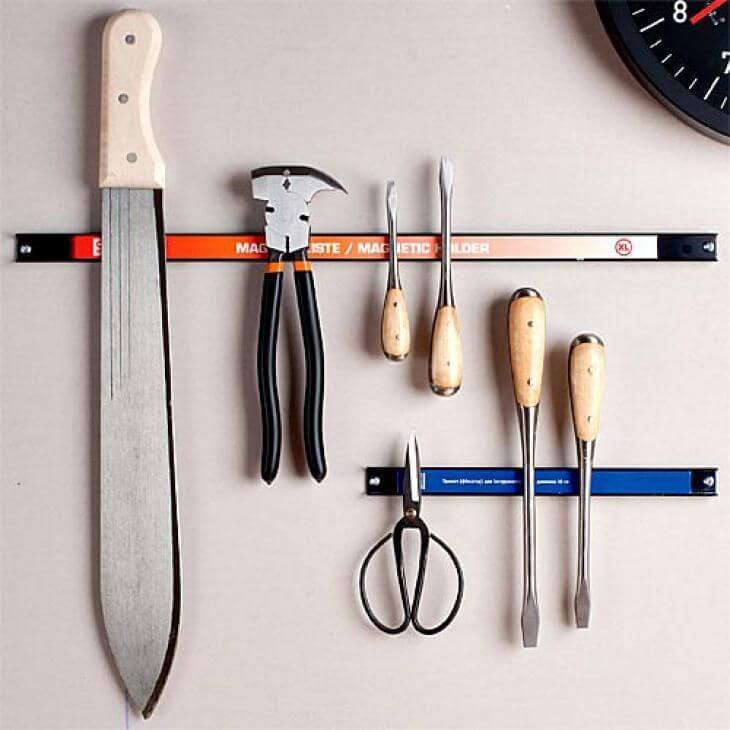 If you have some wall space to spare and you lack any built-in bench storage, a magnetic tool holder could be the answer.
It has two strong magnets running the piece's length, which will hold your jewelry tools securely, freeing up your workbench surface, which is particularly useful if you are multi-tasking in one area.
This wooden holder comes with pre-drilled holes and two long screws, ready to be attached to a wall straight away. Why not use multiples to build up a wall of magnetic storage and reclaim your bench space?
3. Pegboard Jewelry Holder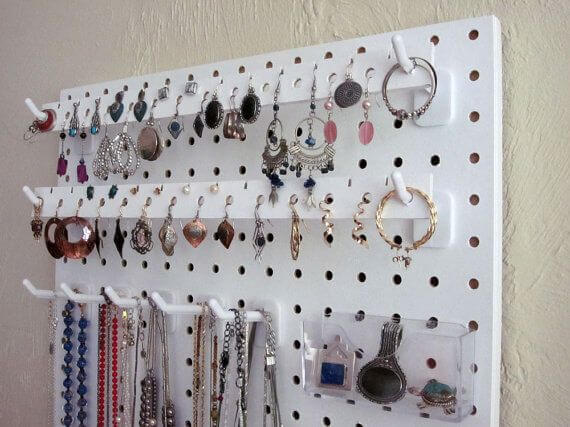 Pegboards are great for organizing just about anything, and jewelry is certainly no exception. A piece of pegboard is really cheap, and you can use it to create a beautiful jewelry organizer that will hold all of your necklaces, rings, earrings, and bracelets.
Just frame the pegboard (if you want) and then add hooks, cups, small baskets, and anything else you need to keep that jewelry organized.
You can hang necklaces from hooks and use plastic cups or baskets to keep your rings organized. Really, there are so many ways that you can put a pegboard to work, keeping things organized.
4. Jewelry Tree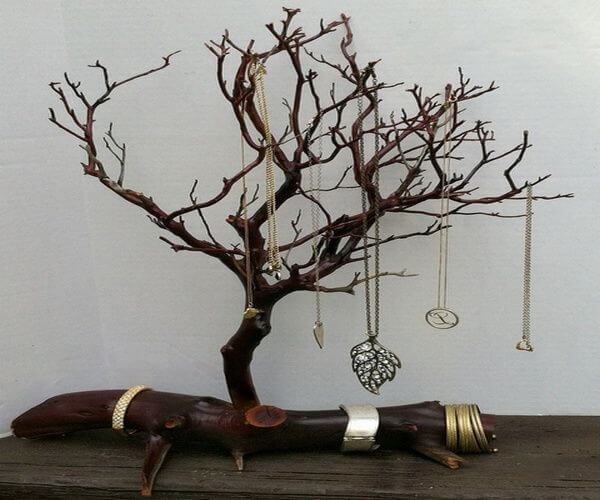 There are many ways to make a jewelry tree, and they are perfect for hanging your bracelets or necklaces. For the simplest version, grab a nice twig from the yard and stick it in a vase.
Voila! You have necklace storage that costs nothing and literally takes about two minutes to make. You can also be a bit more crafty and create a beautiful jewelry tree that will hold necklaces, bracelets, and even rings if you want to take a bit more time.
Moreover, a jewelry tree looks great wherever you sit it and really helps keep your jewelry organized.
5. Hang Items From Hooks and Chains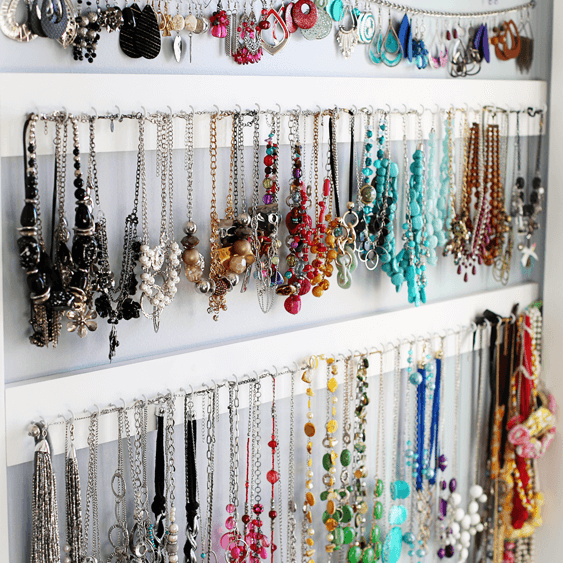 If you have many costume jewelry or long necklaces, it can be difficult to find a store-bought jewelry organizer that can hold your whole collection.
Instead, consider taking a DIY approach by hanging your jewelry on the wall from hooks and chains. You can hang your collection out in the open to enjoy as wall art or affix it to the back of a door or inside a closet where it will be hidden.
Screw one or more thin strips of wood into the wall, and then attach several small hooks to the wood on which you can hang necklaces and bracelets.
And also, for earrings, nail a thick chain to the wall, and hook your earrings through them.
6. DIY Wooden Jewelry Box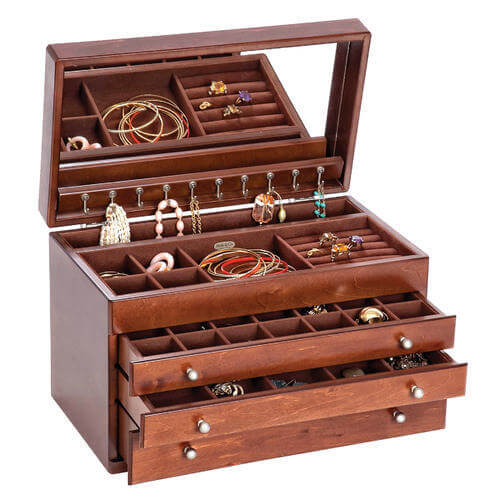 You can run out and buy a jewelry box, but why would you when you can DIY it? This is a great project and one that gives you room to store all of your jewelry in one place.
There are hooks for your necklaces and bracelets, a place to hang earrings, and even a small shelf where you can keep bowls for rings and jewelry earring studs.
This is the perfect jewelry organizer and one that you can completely make from scratch and with just a few supplies. You'll need wood, of course, and a few other key materials.
What you end up with is jewelry storage that looks like something expensive.
A clear workspace does tend to promote clear thinking, so a good sort out is definitely worth doing as the new year approaches.
So, please don't put it off any longer and organize your workspace with our wide range of storage options for your jewelry making needs. 6 Jewelry Storage Ideas.
P.S. Royi Sal Jewelry, as a decades-long leader in silver jewelry design and manufacturing, invites you to download our latest magazine here and profit from the exceptional jewelry designs at affordable prices you will find in the magazine. Click here to download it now.