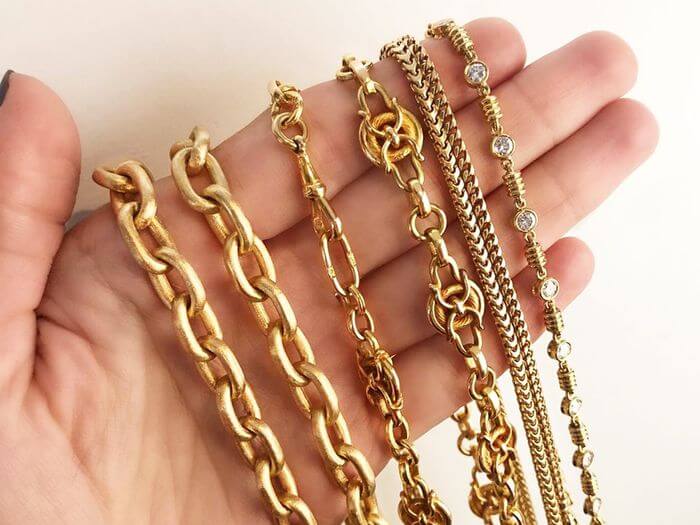 There are many gold and silver chain styles available, each serving different purposes and offering different effects to the wearer. There are even certain chain styles great for wearing on their own as everyday wear or special occasions, but also those suited for specific purposes. Here are the 8 Best Jewelry Chain Styles.
Chain necklaces are the most popular, but you can find chains used in bracelets and earrings as well. Over time, people have created all different link styles and combinations to fashion different looks. Here are the most well-known chain jewelry styles:
Most Popular Chain Styles
1. Anchor Chain
A bold style of chain, the Anchor Chain is modeled on those found in the dockyards and ports to haul sea vessels of all sizes. This nautical chain link features oval-shaped links, almost identical to our trace chain but much thicker.
Some varieties of Anchor Chain feature continual smooth rounded surfaces. Others have flat outer surfaces, created through a process known as diamond cutting.
Diamond-Cut versions can be highly appealing with because it gives a highly polished smooth surface, that allows the reflection of intermittent light, to produce moments of sparkle.
2. Ball/Bead Chain
The Ball chain also called the bead chain is made from spherically shaped beads with pinholes which are then threaded through a single silver wire using a connector.
Each ball is spaced at regular intervals across the whole length to form a complete chain. These were typically made from stainless steel for durability and are known as Dog Tags.
In jewelry fashion, ball chains are very popular and now made in many different shapes, sizes, and finishes which makes this particular style alluring.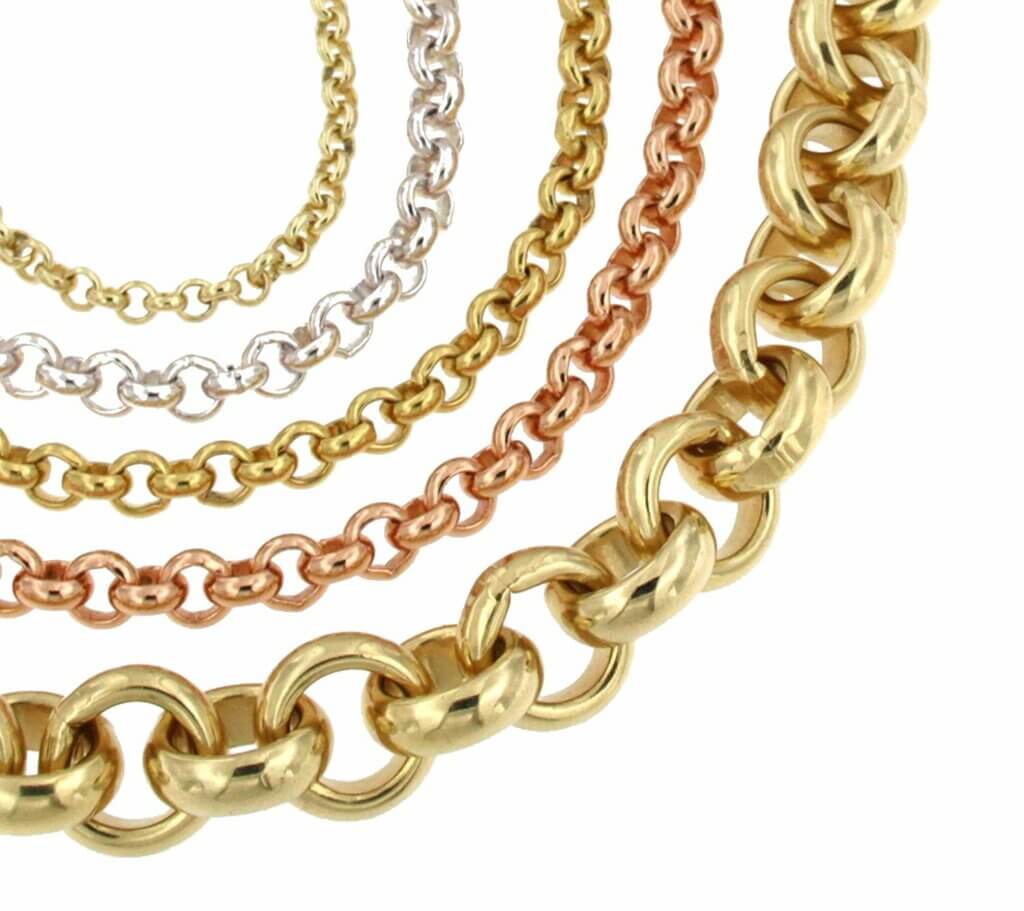 The Belcher chain is also known as a Rolo (Italian for the round) chain is made from a D-shaped wire and is cut and shaped into individual round or oval links, which are then interlocked together.
Each link is then closed and soldered to form a chain. The Belcher Rolo chain is one of our featured hot favorites for its simple look and versatility as a stand-alone chain or to wear with pretty much any pendant of choice.
4. Box Chain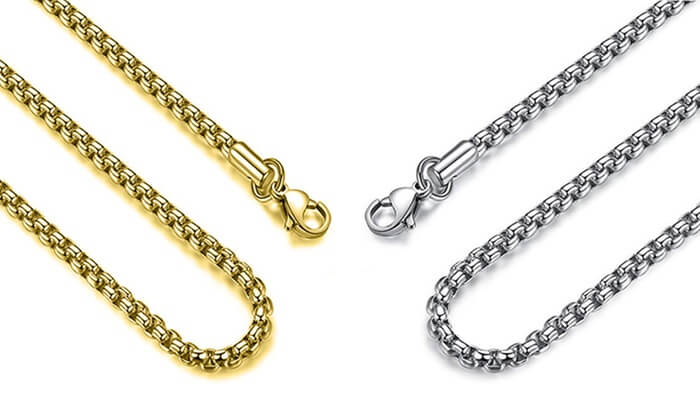 Also known as a Cube, Briolette, Square Link, and Venetian chain. The Box Chain is similar to the Belcher chain but is made from a thin rectangular-shaped wired which is formed into a square shape.
Each square link is then closely interlocked one after the other to create a chain. And the end result is a fantastic geometric style chain that looks modern and sleek. The Box chain can also be worn with pendants or on its own.
5. Curb Chain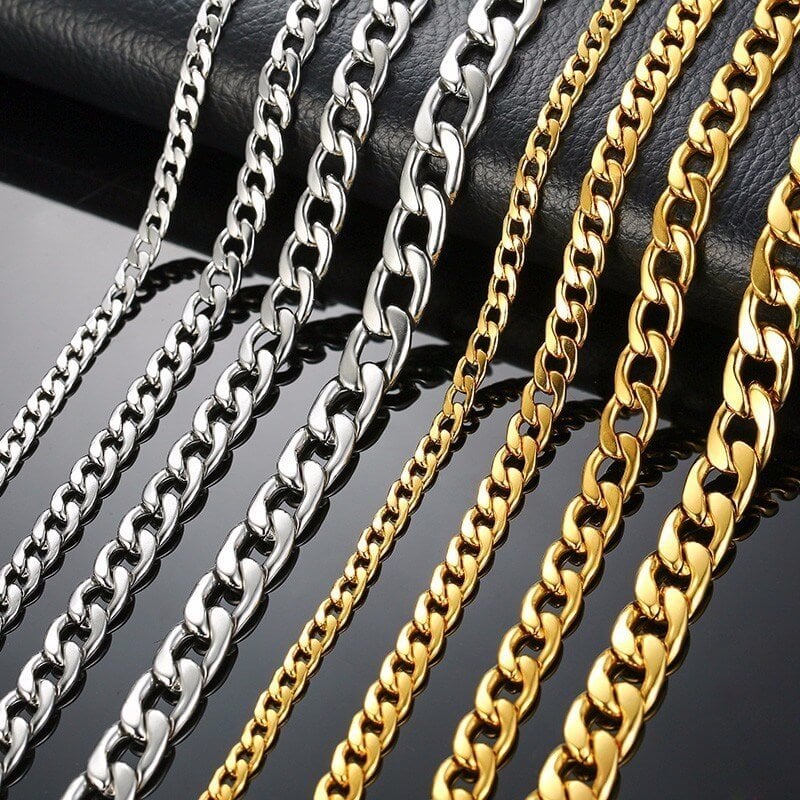 Curb chains are a very popular choice, particularly with men as they are available with heavy, large links. The curb is a simple and classic design of flat, interlocking, identical links.
Historically, the links were large as they were made with very little machinery and hence were very time-consuming. Nowadays, however, with the advent of modern machinery, smaller and more feminine curb chains are available.
On the other hand, smaller curb chains work well with pendants, and diamond cut or twisted curb chains tend to reflect the most light.
6. Figaro Chain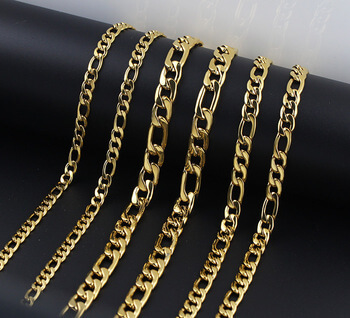 The Figaro chain originates from Italy and is named after the popular Italian opera The Marriage of Figaro.
It is a  flat link chain similar to the Curb chain but comprises of a pattern of two or three circular links interlocked followed by a single elongated rectangular link.
Figaro chains are very popular amongst men and are a perfect combination adorned with a pendant.
7. Real Snake/Snake Chain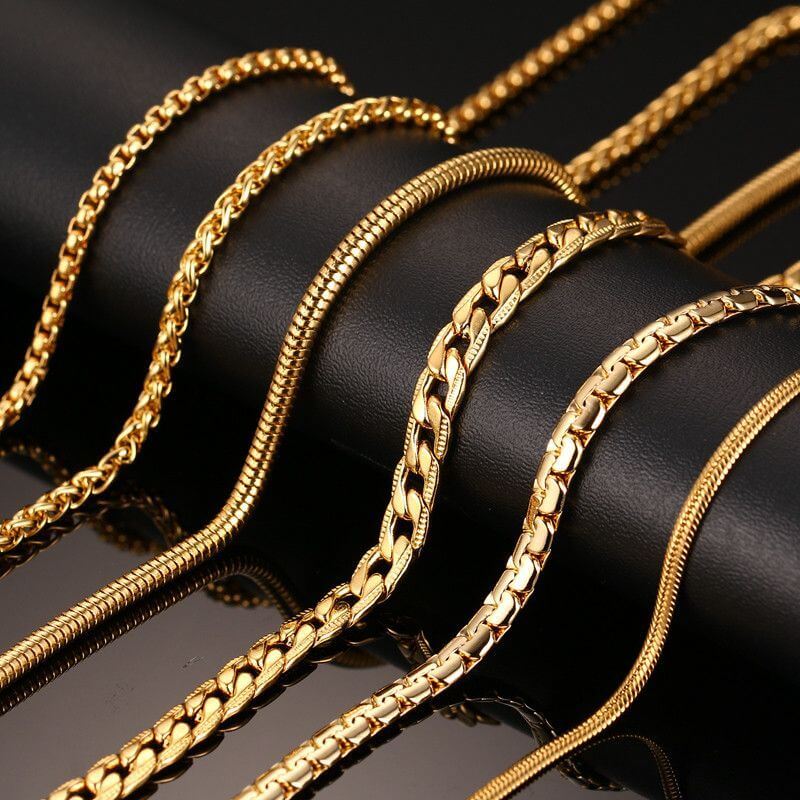 Sleek, smooth, and sexy, the Snake chain is a popular jewelry style adorned by both ladies and men. The tubular links which comprise small round wavy sheets are interlocked tightly to form a continuous tube.
Its name comes from the striking resemblance to a snake by its subtle zig-zag pattern and flexibility.
8. Byzantine Chain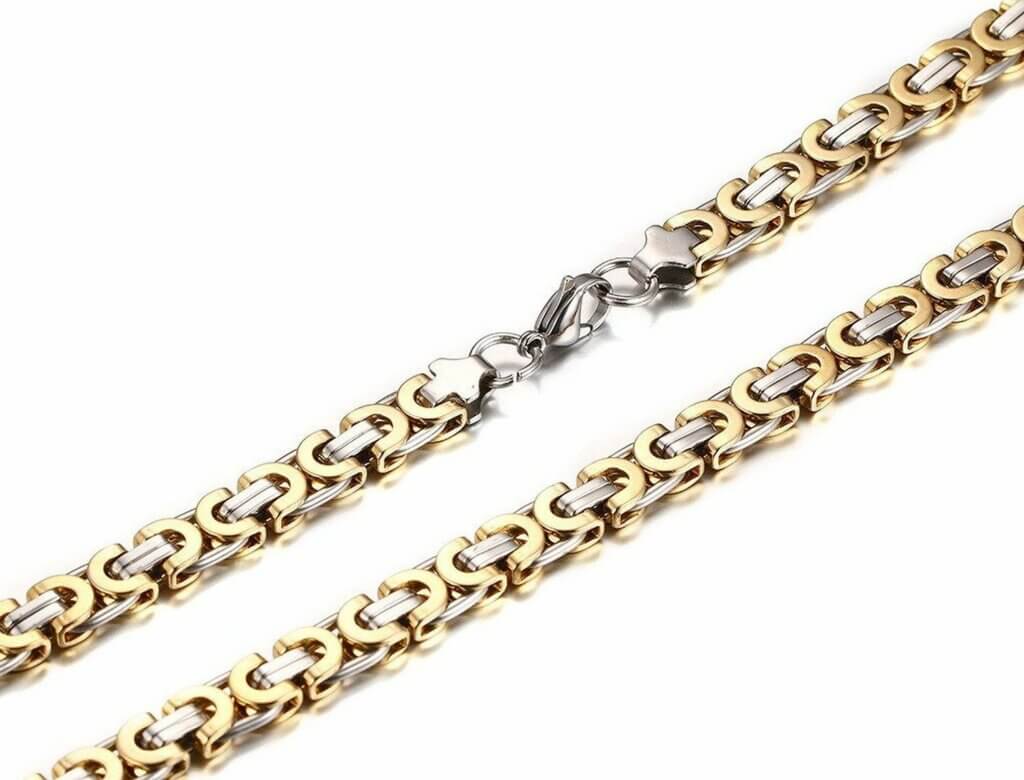 Sometimes called "birdcage" or "Etruscan," the Byzantine style is an obvious nod to the ancient Byzantine Empire. This chain is a decorative design which creates a woven texture.
Also, the pattern used is intricate and complex, arranging round links from different angles.
When you purchase the right style of jewelry chain for you, wearing it will be a joy and will enhance any outfit you pair it with. Check out this article to help you wear your pendant necklace with confidence. 8 Best Jewelry Chain Styles.
P.S. Royi Sal Jewelry, as a decades-long leader in silver jewelry design and manufacturing, invites you to download our latest magazine here and profit from the exceptional jewelry designs at affordable prices you will find in the magazine. Click here to download it now.