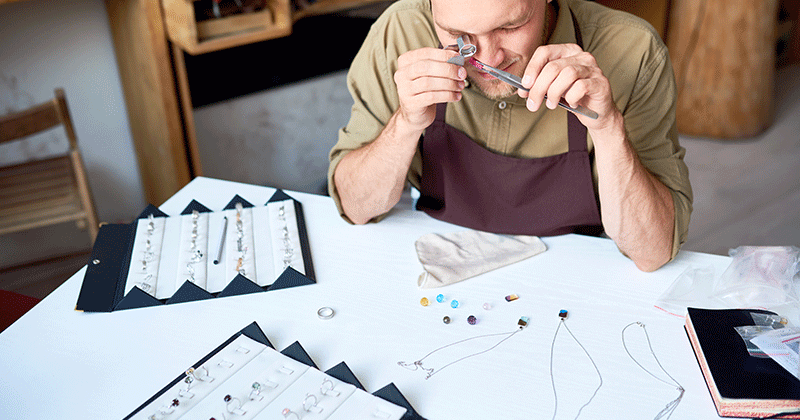 For any jewelry maker, there are always different and exciting ways to expand on your skillset and your collection. There's certainly a lot of avenues you can explore in order to broaden your jewelry collection. Learn the facts about Buying Antique Jewelry For Re-Sale.
Broadening your approach as a small jewelry business is the addition of antique jewelry.
Some customers search far and wide for pieces from certain eras or a trademark design that perhaps is no longer manufactured.
There's an opportunity in customizing antique jewelry for re-sale, which why we've come up with some of the best places to go and buy antique jewelry.
Best Places to Buy Antique Jewelry
1. Antique shops

You'll uncover many hidden gems at some of the UK's best antique shops.
Search through antique furniture and clothing to find pendants, rings, bracelets and other antique jewelry that you can customize for re-sale.
You'll discover probably some antique ring settings without stones.
There's an opportunity here to get your bezel roller and add gemstones to empty bezel cups.
We listed some of the UK's best antique shops you can choose from.
Hemswell Antiques – located in the Lincolnshire countryside, this large antique store stocks items from over 400 dealers.
The Herts and Essex Antiques Centre – where you can explore a multi-barn complex packed with antique stock, located in Sawbridgeworth.
The Old Barn Antiques – nestled in Compton, Surrey, a small antique store with plenty of items to choose from.
David Wolfenden Antiques – all the way up in Northern Ireland, this expansive antique store doesn't compromise on its jewelry offering.
2. eBay

You'd be surprised at the selection of antique jewelry available on the world's biggest online auction site!
Packed with sellers and buyers, eBay is an ideal place to research your antique jewelry projects.
To recreate timeless designs, people are selling chains, ring settings, brooches or even clasps.
It's worth reading through seller reviews and gets in touch with them if have any queries about their product.
Start building up a network of contacts to keep in touch with about your antique jewelry endeavors.
3. Auction Houses

You can pick up some unique antique pieces on the auction houses dotted around the UK.
Discover gems from the Edwardian belle époque era, as platinum was introduced as a unique selling point for beautiful pieces.
Discover diamonds from Colombian and Burmese origins, which are in high demand by a lot of jewelers.
Even pearls could have a rich history worth investing in.
Some of the best auctions to attend or search online are as follows:
Arthur Johnson & Sons Auctioneers – located in Nottingham, UK, discover everything from antique furniture to collectibles, jewelry, and even commercial equipment.
Sotheby's – British-founded Sotheby's, operates from its central New York hub. It's online auction room is worth exploring.
Barnebys – a search engine for antique art, jewelry, and other unique items, taking over 2,000 leading auction houses into account.
Chiswick Auctions ­– located on Colville Road in London, an established auction house holding regular auctions for a range of different items. From rugs and carpets to rare books, ceramics, and jewelry, you can attend the auctions in person or bid online.
4. Markets

Markets are an ideal place to uncover hidden antique gems:
Covent Garden's Apple Market – brimming with artisan items, from handmade soaps with unique scents to sweet treats and trinkets. On Mondays, you can browse antiques and collectibles stalls for your next antique jewelry project.
St. Nicholas Market – located in the heart of Bristol City Centre, can be found within a historic Georgian arcade, hosting plenty of independent stalls and shops selling antique jewelry, arts, and crafts.
Portobello Road Market – an iconic destination for an antique-searcher, they are brimming with collectibles and antique jewelry pieces.
It's worth investigating the nearest stores or markets if looking for antiques near your home.
Online forums for antique jewelry are an ideal place to begin if you want to share ideas with others and find out more about where to buy antique jewelry.
If you're looking to sell antique jewelry, you can create a seller account on eBay, or even other online marketplaces within Etsy or using your own dedicated website. Learn from Buying Antique Jewelry For Re-Sale.
P.S. Royi Sal Jewelry, as a decades-long leader in silver jewelry design and manufacturing, invites you to download our latest magazine here and profit from the exceptional or best-seller jewelry designs at affordable prices for 2019 you will find in the magazine. Click here to download it now.