In a society which values authentic, original characters, attitude and, way of living – who wants to be considered as a "me-too"? Introducing "Be Yourself" – Royi Sal Jewelry latest in-house designed and manufactured collection. Because an original is always worth more than a copy.
Inspired by reflections on life and the human experience, "Be Yourself" jewelry collection aims to unapologetically match YOU with jewelry.
You have a unique gift to offer this world. Be true to yourself, be kind to yourself, read and learn about everything that interests you and keeps away from people who bring you down. When you treat yourself kindly and respect the uniqueness of those around you, you will be giving this world an amazing gift… YOU!

– Steve Maraboli, Unapologetically You: Reflections on Life and the Human Experience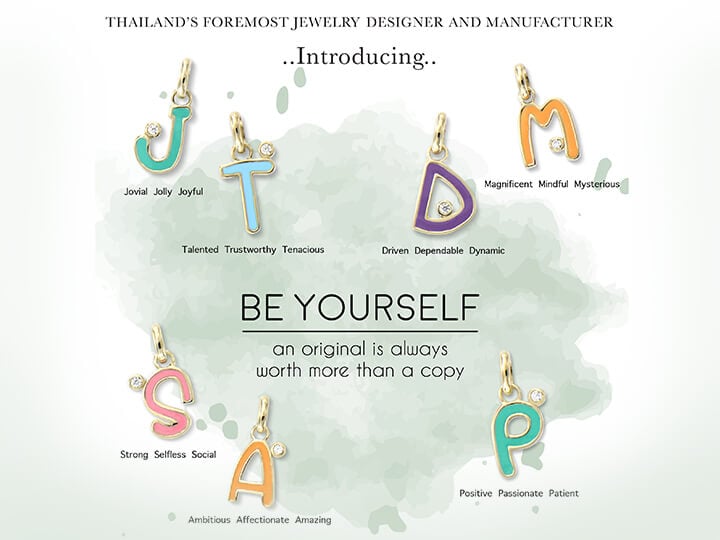 "Be Yourself" Jewelry Collection in Details
"Be Yourself" jewelry collection incorporates charms with letters for maximum personalization and expression. The charms are highly polished, delicate and very lightweight with yellow gold plated tones and cubic zirconia for a discrete elegance.
The charms of "Be Yourself" jewelry collection can be produced in three different types:
In a clean, simple and lightweight design for everyone.
In a colorful – achieved using enamel color – with cubic zirconia design for younger people.
In a delicate design that gives a feminine look and luxury style.
Photo Preview Of The "Be Yourself" Jewelry Collection
Are you interested in learning more about the "Be Yourself" jewelry collection? Please fill out the inquiry form on your right to talk directly with one of our sales representatives.
REMARK: We fulfill customized designs with a minimum order of 50 pieces per design per color and a minimum of $1,000 per order.