Want to be inspired and experience a superb product line bringing diamond jewelry and luxury high-end jewelry? Feel the strength of Lightweight gold jewelry produce by the hand and stamping machine of Royi Sal Jewelry's well-inspired artisans and designers.
Introducing the "Light Weight – Stamping Gold Jewelry Collection" – Royi Sal Jewelry's latest in-house designed and manufactured collection.
The "
Light

W

eight

 – 

Stamping

 

Gold

 

Jewelry

" Collection in Details

One of Royi Sal's strength product lines is stamping Lightweight gold jewelry. It includes Yellow Gold, Rose gold, and White gold available in 9K, 10K, and 14K.  The "Light Weight – Stamping Gold Jewelry" Collection includes Gold with crystal, handmade wire earrings,

Hoop earrings

, Tubing earrings, and little cute item for children's jewelry.

The product feature is a lightweight mounting piece with a prong snap-in

stone

setting and invisible setting crystal (glue, epoxy, clay).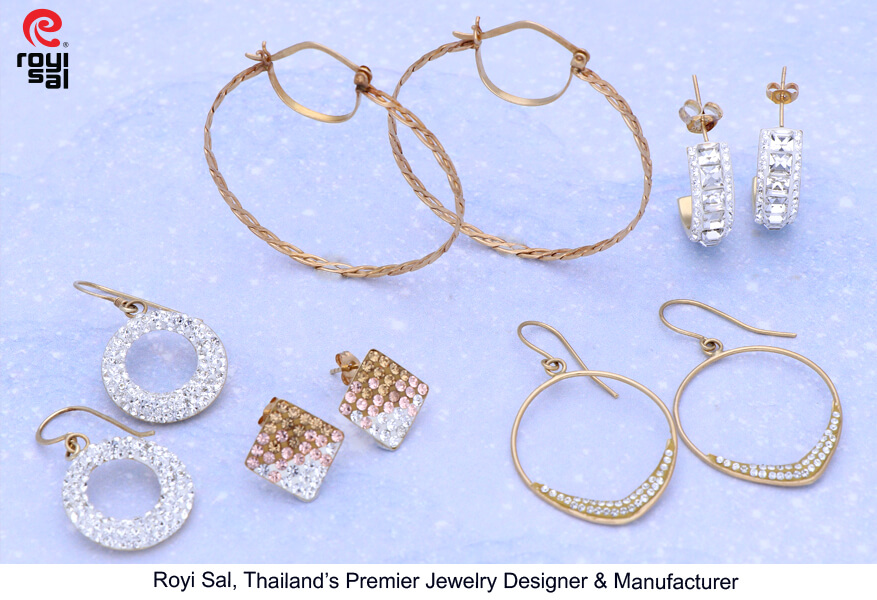 Get to know Stamping Jewelry or Die struck Jewelry:
Stamped or Die – Struck is one of the most common types of making jewelry process. The Jewelry has been formed by striking a gold sheet in a die or between two dies is dying struck. This compresses the molecules and forces the metal into every crevice of the die.
Metal stamping is more economical when it is used for parts with simpler geometries. And it can be used a very thin metal sheet for making jewelry piece and the jewelry become lightweight so it is less costly but you still have the shiny of gold and sparkle of the stone when you wearing them.
Photo Preview Of The "Light Weight-
Stamping

 

Gold

 

Jewelry

" Collection

Are you interested in learning more about the "Light Weight – Stamping Gold Jewelry Collection"? Please fill out the inquiry form on your right to talk directly with one of our sales representatives.

REMARK: We fulfill customized designs with a minimum order of 25-50 pieces per design per color and a minimum of $1,000 per order.