What if you could capture the world's most magnificent and exquisite natural wonders in the shape of jewelry? Well, thanks to Royi Sal Jewelry's earth-loving artisans and designers you can!
Introducing "Nature Inspired" – Royi Sal Jewelry latest in-house designed and manufactured collection.
Rooted in admiration for the environment, this quirky collection of nature-inspired jewelry honors the tropical forests, wildlife, Arctic Circle and fauna that comprise our splendid planet.
With these marvelous jewelry pieces, you can adorn yourself with earthly treasures from head to toe, transforming your everyday ensemble into a celebration of nature.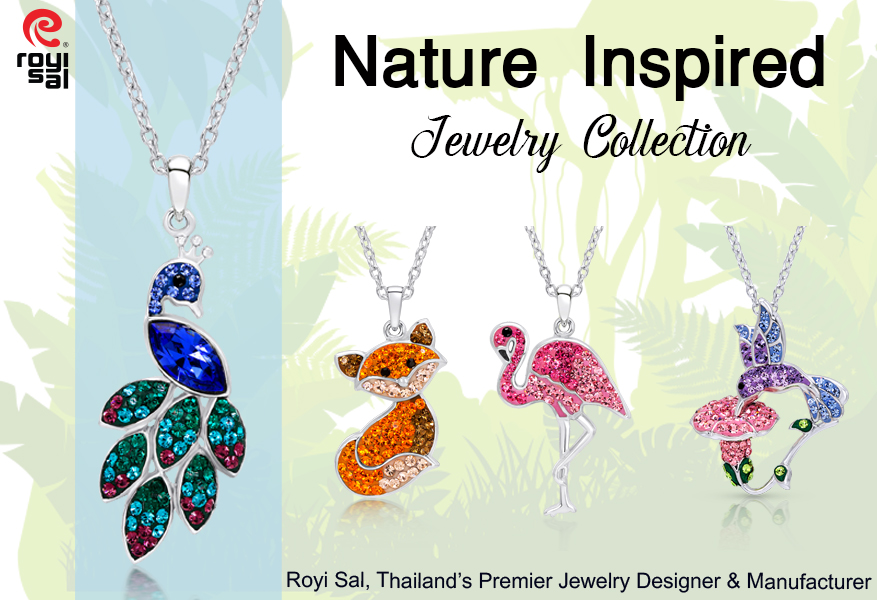 "Nature Inspired" Jewelry Collection in Details
From colorful peacocks with bright tails to pendants with sacred elephants and lively tropical leaves, these eclectic and enchanting pieces will be a breath of fresh air in any jewelry box (or showroom).
Manufactured using 92.5 sterling silver with world-class quality grade crystals, each jewelry piece is handcrafted and their crystals are set one-by-one by hand by our artisans.
Photo Preview Of The "Nature Inspired" Collection
Are you interested in learning more about the "Nature Garden" jewelry collection? Please fill out the inquiry form on your right to talk directly with one of our sales representatives.
REMARK: We fulfill customized designs with a minimum order of 50 pieces per design per color and a minimum of $1,000 per order.