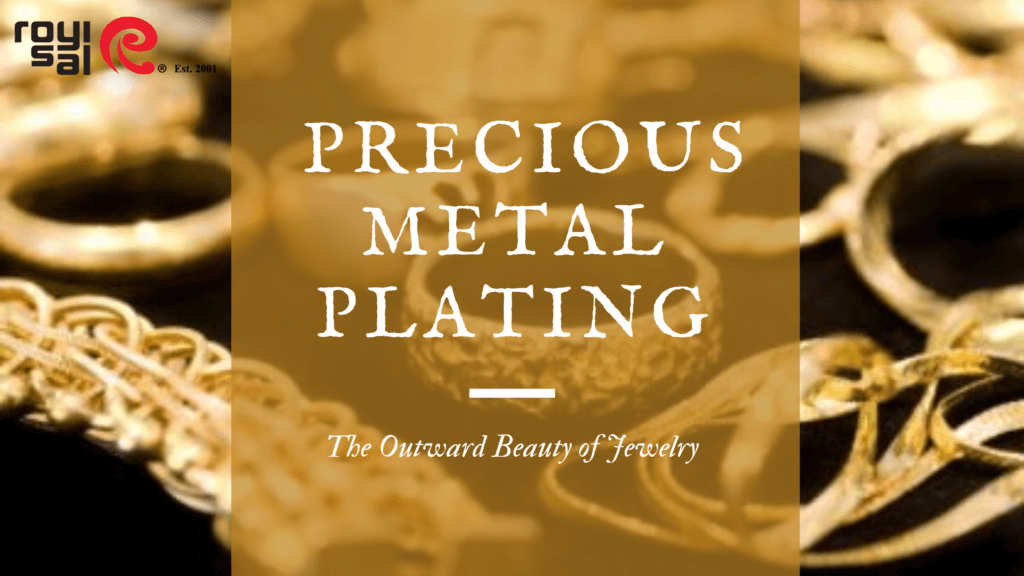 Everybody knows what gold plating is in a general sense, but it's a surprisingly deep and nuanced field of study once you dig deeper. Let's put it this way: it's a much more complex procedure than simply dipping a piece of silver jewelry in a pot of molten gold! The Outward Beauty of Jewelry: Basics of Precious Metal Plating
It's What's Outside That Counts: The Basics of Precious Metal Plating

Since solid gold is so expensive (and not exactly the most durable metal), some savvy jewelry buyers prefer gold or rhodium plated jewelry instead.
This article is going to give you everything you need to know if you're thinking about buying some gold or rhodium plated fashion jewelry from a reputable wholesale jewelry manufacturer. Just like a shimmering golden necklace, this valuable information is as good as gold!
Quick Overview of Gold Plating
Gold plating comes in two flavors: flash plating and micron plating. Before we dig into the differences between the two, it's wise for us to define a "micron": it's a unit of measurement equal to one-millionth of a meter.
A micron, which is being such a small unit of measurement, is most commonly found in fields where size comes at a premium, like computing, communications, and of course, custom jewelry manufacturing.
It's almost always blended with other metals to increase its durability when jewelry manufacturers use it because gold is a soft metal. You've probably heard of "karats," but you might not know how much gold is actually in each rating.
It's relatively simple. The higher the number of karats, the higher percentage of gold is in it.
24k: 99.9% of gold
18k: 75% of gold
14k: 58% of gold
10k: 41% of gold
The "other metals" blended into gold alloy are typically nickel, zinc, and copper. These are cheaper metals, but they are much harder and more durable than gold, making them ideal for making alloys used in fashion jewelry manufacturing.
How Gold Plating Is Done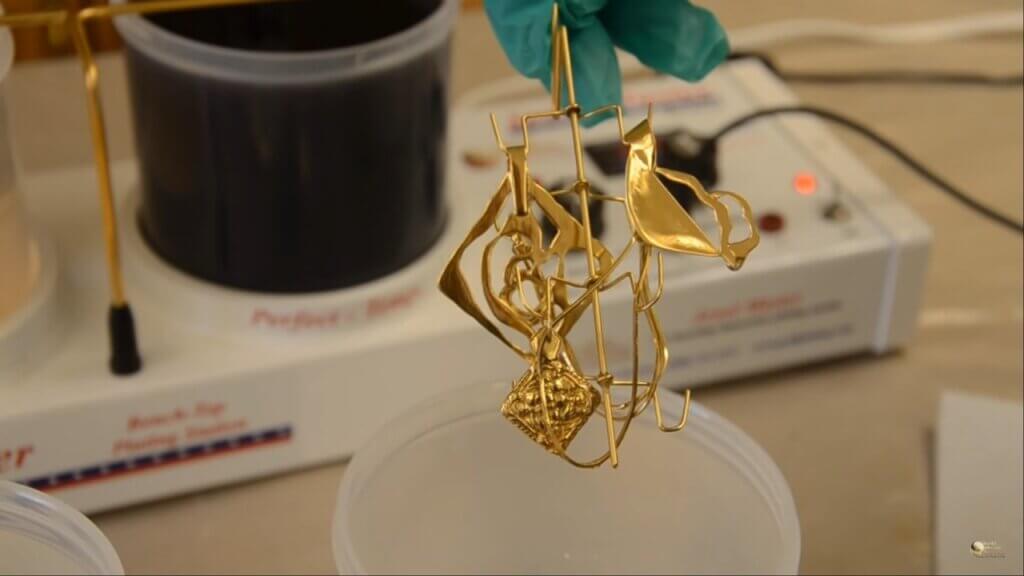 In the custom jewelry manufacturing process, gold plating is done with relatively simple chemistry. First, the piece of jewelry is thoroughly treated with solvents to ensure all oils are removed.
Once the solvents are washed off, the jewelry has a thin "strike layer" added to the jewelry's surface to help the gold layers adhere to the metal. Think of this as the "primer coat" you'd use when painting.
Then, gold layers are added to the specified thickness by submerging the piece of jewelry in a plating solution where electricity is being used. Gold ions are attracted to the surface of the metal.
Custom jewelry manufacturers may often use alternating layers of metal and gold to ensure a long-lasting, high-quality finish. Once the gold layers are added, the piece of finished fashion jewelry is hung to dry.
We should also note that to accommodate customers with allergies, it is also essential to develop a nickel-free process (hypoallergenic).
Today, most fine silver jewelry manufacturers adhere to a widely accepted international standard whereby silver is used as the "strike layer." If the jewelry surface is imperfect, copper will be added (instead of nickel) before the silver "strike layer" to ensure the finished piece remains nickel-free and hypoallergenic.
Flash Plating
Shifting back the two types of gold plating, flash plating is the cheaper one. Remember the first "strike layer" of plating from our breakdown of the plating process. Imagine that it's a thin layer of gold instead.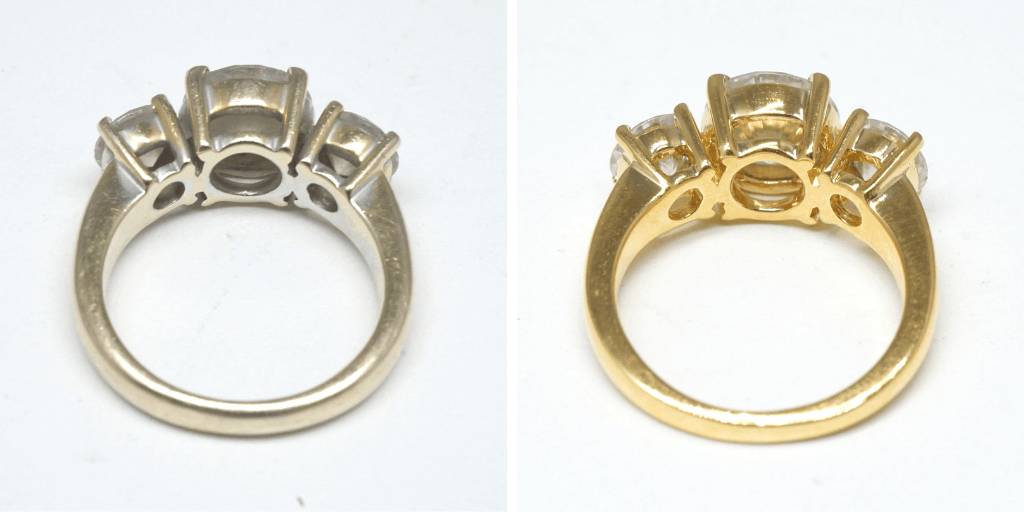 Flash plating results in a porous finish and is not ideal for long-term use due to the coating's extreme thinness (less than 0.25 microns, in fact). Sweat from the skin and simple frequent handling can wear down flash plating in a well flash.
It is the cheapest method of gold plating. It is mainly used when plating affordable wholesale jewelry, costume jewelry, or on-display items that are not intended to be handled frequently. The Outward Beauty of Jewelry: Basics of Precious Metal Plating
Micron Plating
Micron plating is thicker. Therefore it's higher quality and, naturally, more expensive than flash plated jewelry.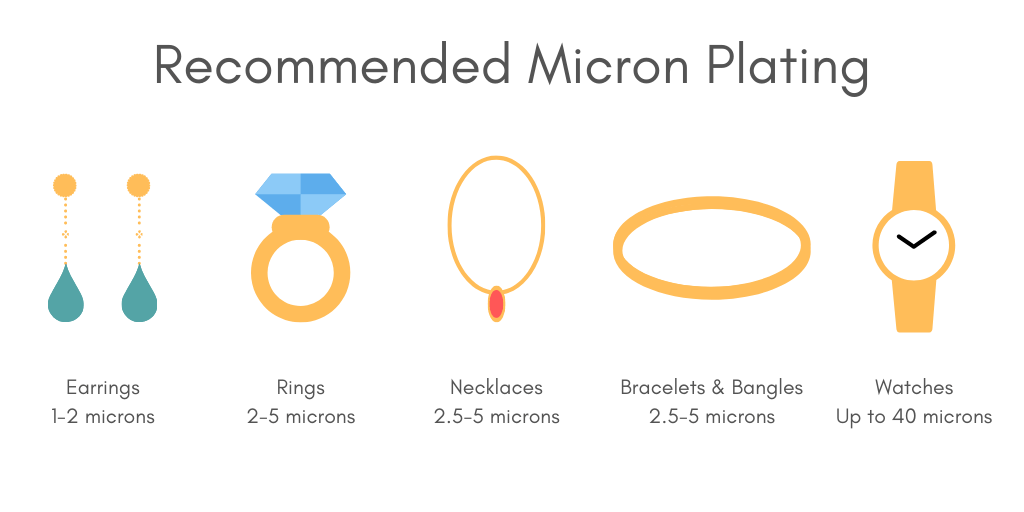 Micron plating comes in a variety of thicknesses between 0.5 to 2.5 microns. Commonly, 10, 14, or 18 karat gold is micron plated over .925 sterling silver to create a beautiful, long-lasting, durable golden finish.
Hamilton Gold Plating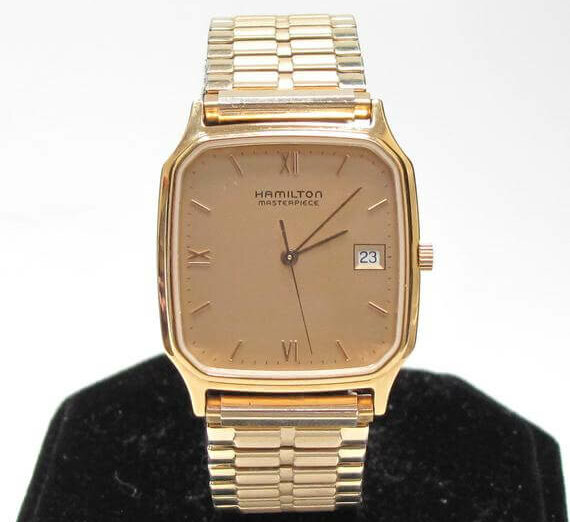 Another unique style of gold plating is known as Hamilton plating. Hamilton gold plating gets its name from the famous wristwatch manufacturer Hamilton, which used this plating procedure extensively on its line of watches during the 1940s, 50s, and 60s.
Hamilton gold is mostly brass, with a small amount of gold included in the mix. This finish offers a more subtle, understated gold appearance than traditional yellow gold plating. It's paler in color but still manages to be quite warm and inviting to the eye.
Rhodium Plating
Rhodium plating is a newer concept but has continued to increase in popularity during the 21st century. No wholesale jewelry manufacturer makes jewelry solely out of rhodium. Besides the fact that it's a scarce and expensive metal (more costly than gold, in fact), it is far too brittle and difficult to work with. Despite these drawbacks, it is an excellent choice for plating.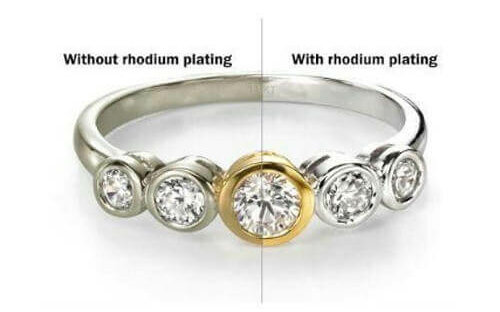 Rhodium's impressive hardness means a superb scratch resistor when placed over softer metals like gold. It provides an exceptional additional silvery sheen to white gold or silver jewelry. 
Only a very thin layer of metal is needed to provide these benefits. In other words, rhodium plating remains affordable despite the metal itself's extreme and highly variable costs.
Like gold plating, rhodium plating does eventually wear off due to damage from friction and frequent contact with sweat and oils, which necessitates re-application after a few years.
White Gold and Rose Gold Plating
Like 14 and 18 karat gold, "white gold" is an alloy of several metals, the most notable of which the gold itself will also include white precious metals such as palladium and silver.
There is no chemical element known as "white gold," and you can't dig for it in the Earth-like you can for yellow gold! White gold is typically coated in rhodium. It adds durability as well as a silvery shine.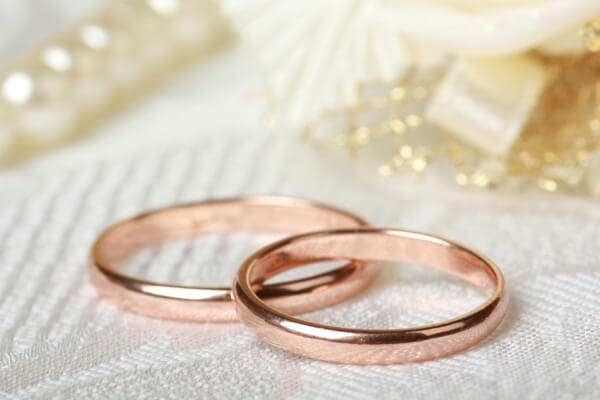 Rose gold is another man-made alloy of several metals, including gold and copper. In fact, it's the copper that gives rose gold its unique color. 
It is currently riding a wave of popularity due to its attractive pinkish appearance and can be seen in many modern designs offered by wholesale jewelry manufacturers worldwide.
Basic Care of Gold or Rhodium Plated Jewelry
Due to the thin layer of gold or rhodium used in the plating process, it's essential to follow some simple rules that can prevent wear and get the most out of your investment.
First off, salt from your sweat is gold plating's mortal enemy, and chlorine is not much friendlier. Frequently wipe down your gold-plated jewelry after wearing it (especially if you sweat a lot) and not swim in it.
The chemicals found in hairspray and beauty products can also do a number on a gold-plated finish. Get in the habit of putting your rings and bracelets on after you do your hair and makeup.
Don't use abrasive chemicals when cleaning your gold-plated jewelry. A bar of mild soap and water alone are strong enough to do the trick.
If you need something stronger, a professional jewelry cleaning solution that's specifically tailored for gold-plated fashion jewelry will do.
Conclusion
Major wholesale jewelry manufacturers will offer a wide assortment of gold and rhodium-plated jewelry. This means that you should have no problem finding the specific piece you're dreaming of.
Furthermore, now that you've got the lowdown on precious metal plating, you'll be sure to make a good buying decision. The Outward Beauty of Jewelry: Basics of Precious Metal Plating
P.S. Royi Sal Jewelry, as a decades-long leader in silver jewelry design and manufacturing, invites you to download our latest magazine here and profit from the exceptional jewelry designs at affordable prices you will find in the magazine. Click here to download it now.