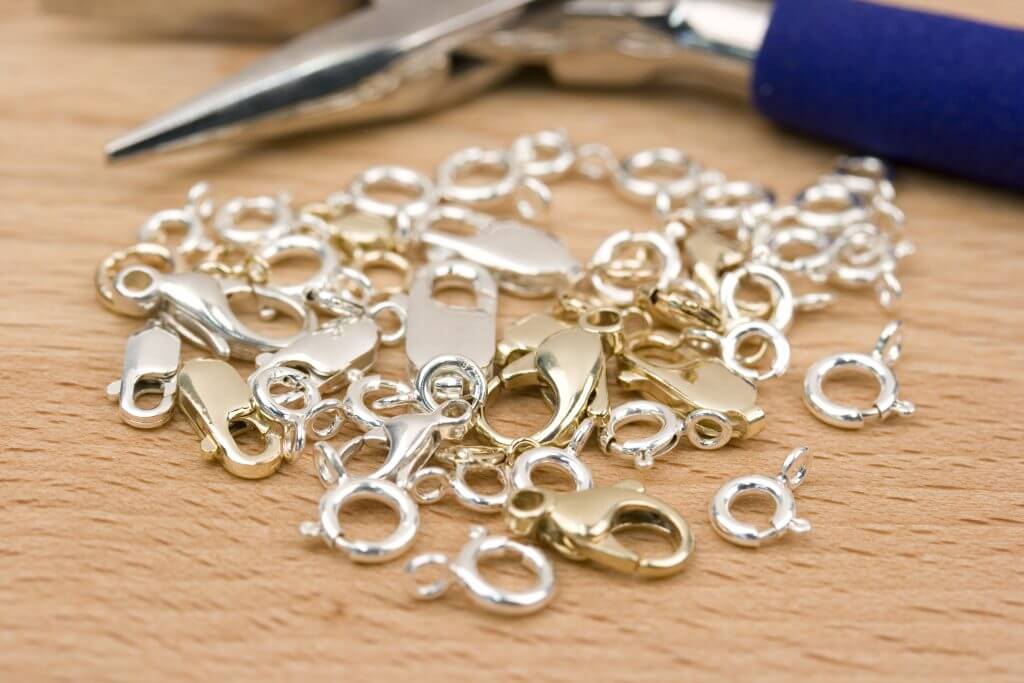 Creating a piece of jewelry involves making many decisions along the way. You have to choose your colors, your style, the size of your piece, and more. One thing that often gets overlooked, but is so important, is the type of jewelry clasp you use. It's more than just a functional finding that allows you to put on your jewelry; it also plays a part in the piece's security and even the design. So here are the 8 Best Types of Jewelry Clasps.
And really, the clasp is so important. We bring together some jewelry clasp designs to give you a helping hand in choosing the right one for your handmade jewelry piece.
Popular Types 0f Jewelry Clasps
1. Bolt Ring Clasps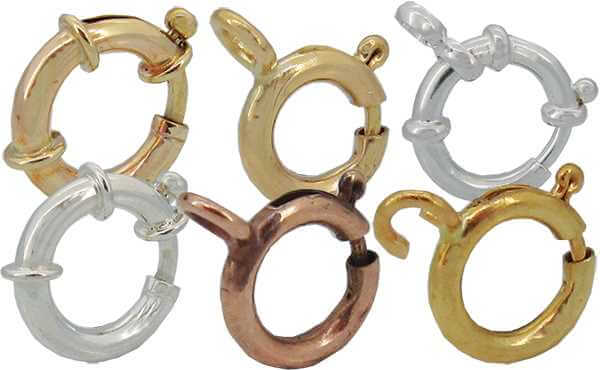 Bolt ring clasps are your standard, 'bread and butter' type of clasp. They are functional and affordable.
And you will find them on many lightweight pendant chains due to their inconsequential weight.
There is really nothing lighter than a bolt ring clasp, so they are perfect for keeping costs down.
As with any sprung clasp, heat needs to be kept away from the mechanism as it will render it useless.
And the smaller sizes can also be difficult to manage if you have any dexterity problems.
When using a larger size clasp, it is also no longer just functional and instead becomes an additional feature of the design.
2. Lobster Clasps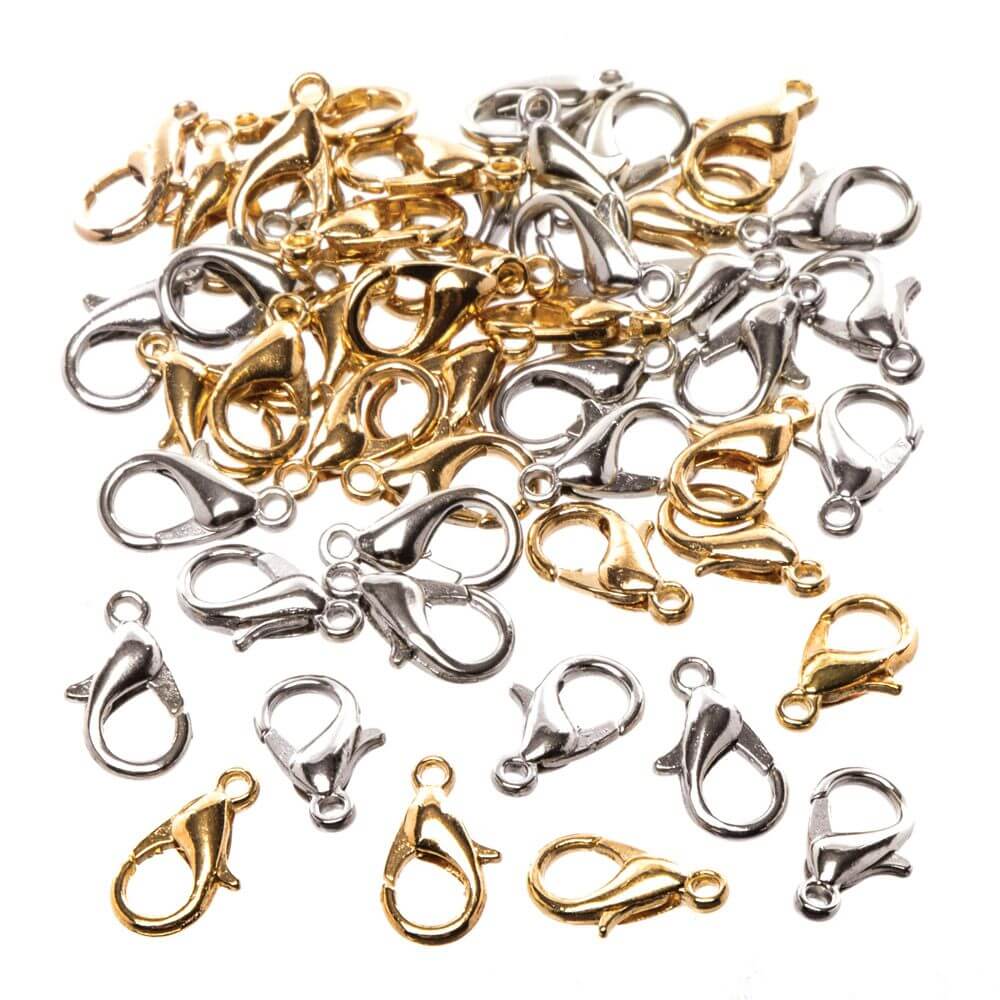 Lobster clasps, or lobster catches, are the next step up from a bolt ring and are named due to their obvious resemblance to a lobster claw.
They are stronger, heavier, and more expensive than bolt rings, making a good choice for higher-priced items.
These clasps are suitable for a longer length, heavier pendant, and bracelet chains where the chain or pendant's weight will offset that of the clasp. Thus helping to keep it in position.
They are not suited to lightweight chains. You should also always consider the size of the ring to be secured within a lobster clasp.
As the trigger opens inwards, which can sometimes restrict its functionality.
3. Trigger Clasps
Trigger clasps function as a little more stylized and aesthetically pleasing due to the rounded features, which are sometimes described as 'baroque.'
They are often a little more expensive than a lobster clasp but offer increased functionality as the opening can accommodate a larger jump ring.
Again trigger clasps are suitable for heavier weight chains and pendants to balance things out.
4. Magnetic Clasps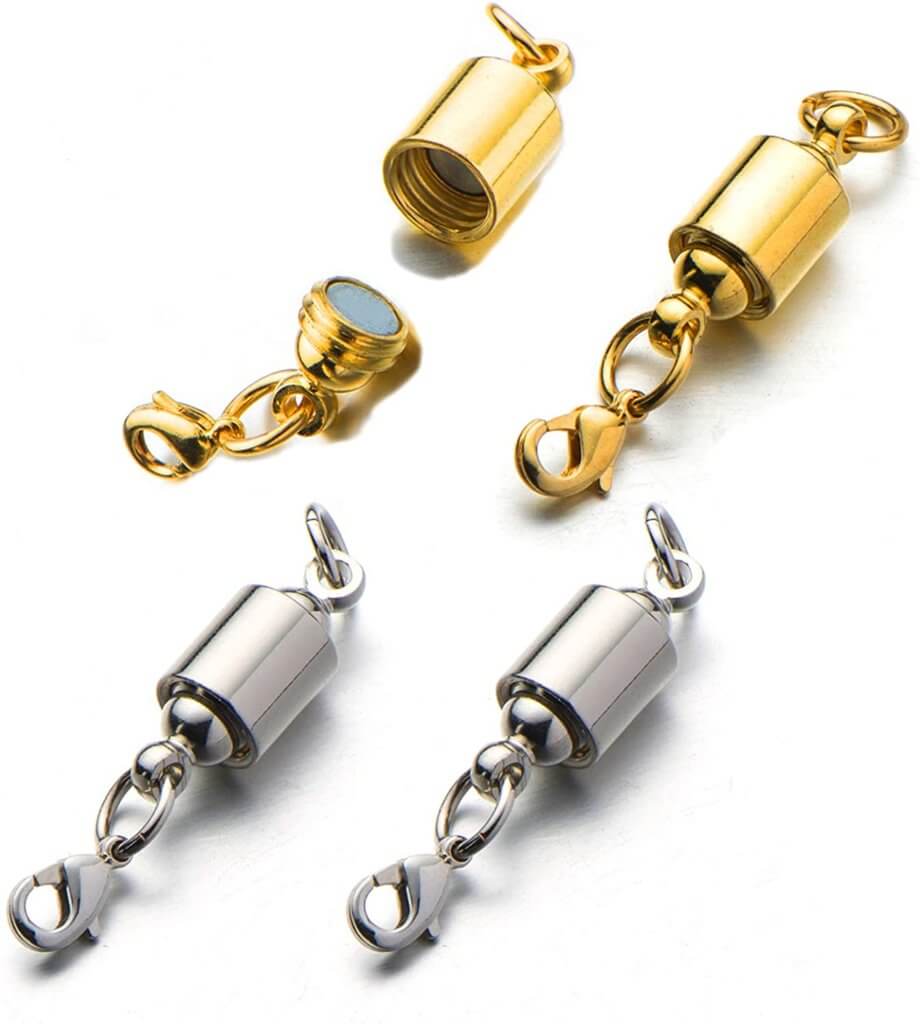 Magnetic clasps for jewelry consist of a pair of magnets concealed in some decorative outer casing, which locks together when one is placed alongside the other.
They are often spherical or elliptical and are extremely pleasing to the eye.
Magnetic clasps are a great choice as they are to be found attached to beautiful strings of pearls or beads, which require a clasp that will blend seamlessly into their design and rhythm.
Magnetic clasps for jewelry are not cheap or lightweight due to their complexity.
They are often quite beautiful objects, which makes them ideal for those really special pieces. Or for something requiring that extra design element.
5. Sliding Clasps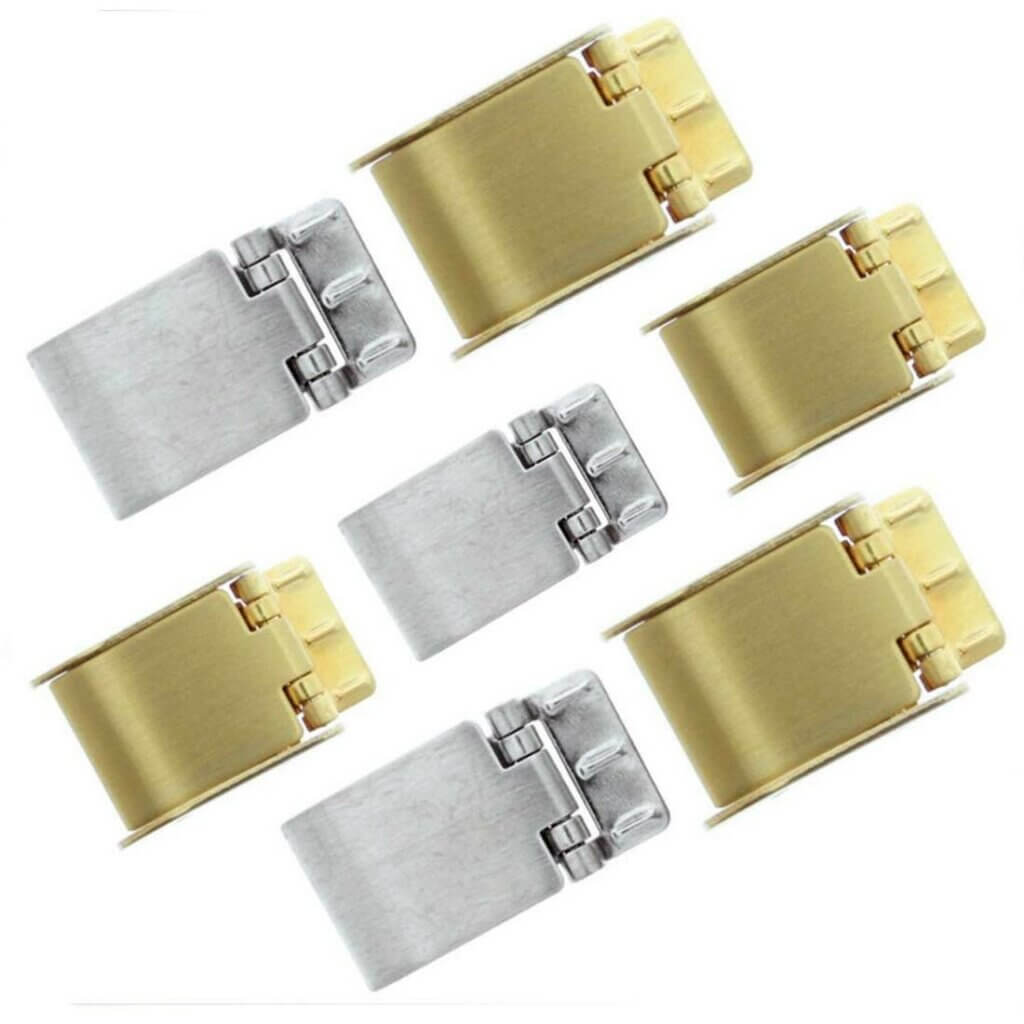 Sliding clasps are a relatively new concept in jewelry. They contain a silicone insert with a small hole in the center, which will grip anything pushed through it. Thus completing the loop and securing the piece.
These clasps are great for casual style beaded bracelets and necklets. And allow the size to be adjusted simply by pushing the slider clasp up or down.
They require a slightly more bulky chain with a substantial-end to work well to enable the silicone to grip it as it is pushed through the clasp.
Snake, box or bead chain will all work well and thicker leather or cotton, provided they have nice solid end caps.
6. Toggle Clasps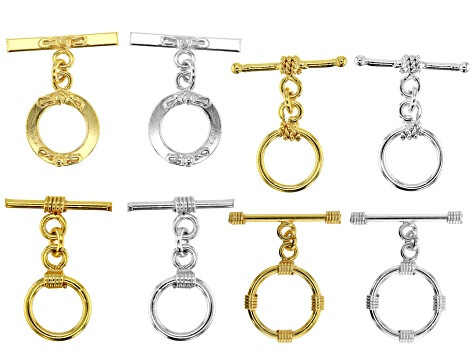 A toggle clasp consists of a metal piece with a hole in the center and a T-shaped bar.
To close this type of jewelry clasp, you need to turn the bar on its side, push it through the ring. And then it locks into place because the bar is wider than the ring itself.
Make sure the bar is not too short, or it will slip through the ring.
When using them for beading, making sure the beads closest to the bar can fit through the ring. Otherwise, you'll find you have difficulty closing the clasp.
7. Bayonet Clasps

A bayonet clasp is an altogether different design, and in stark contrast to the padlock, has a very modern, minimalist look about it.
With a simple push and twist-action, two pieces of the tube are locked into place. This provides a strong and secure fixing mechanism suitable for light to medium weight pieces.
Loops can either be soldered to the end of each side, or lengths of rubber or leather can be glued into place as each piece of the tube has been left unsealed.
The bayonet clasp has lovely clean and uncomplicated lines so is perfect to finish off contemporary, streamlined jewelry designs.
8. Multi-Strand Clasps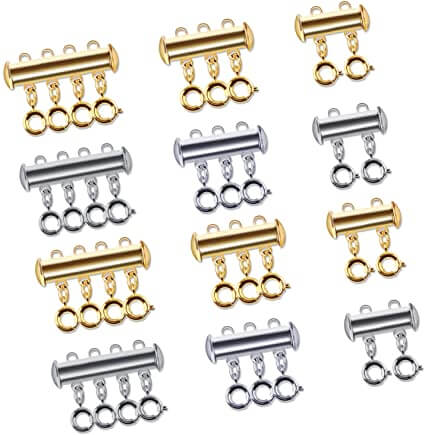 The multi-strand clasp offers a simple way of securing a series of layered chains or beads at one fixed point. All contain loops on either side to attach the strands and can accommodate 2, 3, or 4 rows ordinarily.
In particular, these clasps are easy to use and secure ways to fasten multiple strand necklaces and bracelets.
When selecting a multi-strand clasp, consider your design's width as the spacing of the loops on the clasp can vary.
For example, larger designs might require a bigger gap between the loops on your chosen clasp so that the separate strands lay flat.
So there you have it — a complete guide about different types of jewelry clasps. There are many options to consider, and the choice you make can really add to your jewelry finished piece! 8 Best Types of Jewelry Clasps.
P.S. Royi Sal Jewelry, as a decades-long leader in silver jewelry design and manufacturing, invites you to download our latest magazine here and profit from the exceptional jewelry designs at affordable prices you will find in the magazine. Click here to download it now.