June is almost knocking on our door and the team in Royi Sal Jewelry is once again delighted to participate at JCK Las Vegas 2017, the premiere jewelry event in the US. Held from June 5th to the 8th in glamorous Las Vegas, the unique ambience of this jewelry fair is always a perfect match for Royi Sal's 6 new sparkling jewelry collections.
We've been busy behind-the-scenes preparing special events, on-site promotions and free gifts for Booth B.3146 visitors. Read this article till the end to get a sneak peak…
2 Brand New Collections For JCK Visitors Only Our research & design team did many months of research, following the trends and surveying tens of existing customers regarding the 6 new jewelry collections, Royi Sal will introduce during the show.
The data we gathered helped us design and manufacture maybe the best quality pieces of jewelry, ever sold publicly. Proof the feedback we've received from our existing customers and the amount of pre-orders we've already booked for these soon-to-be publicly introduced jewelry collections. In this article we're going to let you take a sneak-peak at 2 of the 6 collections. (let the drumroll begin…)
Collection No.1 – BE YOURSELF
I'm different, you are different, everyone is different with our own distinguishable personalities, wants and needs. So why buy the same jewelry designs? Why not express our personality differences through a unique piece of jewelry?
With the collection "BE YOURSELF" our design team created the perfect jewelry piece to separate you from others and help you "BE YOURSELF". Each letter of "BE YOURSELF" collection has it's own message & meaning…just like you. Never forget to BE YOURSELF!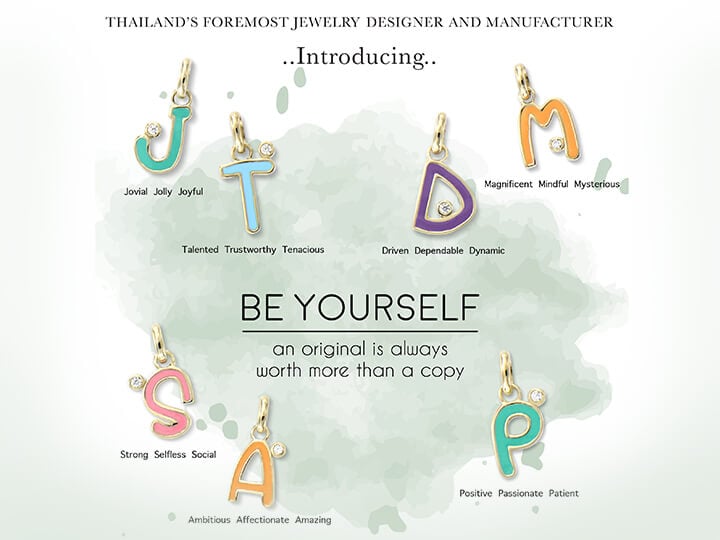 Collection No.2 – SILVER FLORAL DICTIONARY
DICTIONARYTaking cues from popular fashion trends like floral prints and flower accessories, Royi Sal will introduce the new Silver Floral Dictionary collection. It's time to brighten up your summer looks with floral inspired silver jewelry designs.
"SILVER FLORAL DICTIONARY" collection draws its inspiration upon the meaning our society tends to give to flowers. Lilac represent "Love Magic" , Daisies represents "Innocent Love" and so it goes… A piece from the "SILVER FLORAL DICTIONARY" collection is the perfect way to embrace the earth's bounty, use nature's hues, and make a floral statement!
But wait, there's more…
We keeped the best for the end. For all of you visiting Booth B.3146 – Royi Sal's booth in JCK Las Vegas event – make sure you place your order on the spot and claim a 10% Instant Discount.
(Terms & Conditions: The 10% discount applies to all orders booked and confirmed with down-payment during the days of JCK Las Vegas Jewelry Event. Dates are 5 to 8 of June 2017. This promotion is only for new customers of Royi Sal Co., Ltd.)